Specialised films for the agricultural & horticultural sectors
Polythene for the agricultural and horticultural sectors
We provide a wide range of films, wraps, and covers to secure agricultural materials and stabilise growing conditions throughout the year. Each of our products is specially designed to meet the specific requirements of the agricultural and horticultural sectors, so you can choose the specific film for your needs. Our agricultural and horticultural wraps are also ISO-certified, so you can depend on them to help your crops and plants prosper year-round.
Supporting farmers throughout the UK
Since 2007 we have supplied farmers and growers throughout the UK with the specialist polythene products they depend on to succeed year on year. Join them and see how your business benefits.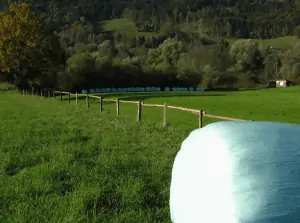 Applying our agricultural and horticultural films is easy
We understand that the role of a farmer can be incredibly demanding and we want to provide agricultural films that are easy and quick for you to use.
Every product can be applied manually or using the appropriate machinery, enabling you to wrap or cover your products as desired.
Our films are 5-layer co-extruded, meaning they combine strength and flexibility to easily wrap and secure your products.
Meet your specific needs with specialist liners – order now
Damage free, fully-grown, healthy crops and plants
There are numerous ways in which specialist agricultural and horticultural films can benefit your business.
Produce healthier crops and plants for longer with stable, manageable growing conditions.
Specialist polythenes offer complete coverage without affecting your growing conditions, enabling you to secure your product for less wastage or crop damage.
Improved crop yields mean increased product for market and bigger profits for healthier businesses.
Our agricultural and horticultural films, wraps, covers, and sheeting are all ISO-certified, guaranteeing that you will receive the highest quality products on the market today.
Benefit from our wide range of films, sheets, and membranes for the agricultural and horticultural sectors:
Agricultural stretch film
This innovative stretch film by Silobal® allows farmers to easily and securely contain their bales. The film has been specifically developed to provide maximum flexibility and wrap around differently sized bales, for practical, flexible agricultural protection.
Let your produce breathe with our Ventilated Stretch Film, specifically designed to allow your pallet-wrapped fruit, vegetables, and flowers the natural airflow they need to stay fresh and healthy.
Our Mulch Film helps farmers throughout the UK to speed up the growth of their crops and provide healthier produce for better return on their yields. Mulch Film protects your crops against environmental changes by minimising the external conditions…
Our Silage Film provides farmers and horticulturists throughout the UK with a way of maintaining the nutritional value of their forage plants such as corn, vegetables, and grasses after cutting, for longer lasting, higher quality silage.
Horticultural bags/covers
Our wide range of Horticultural Bags and Liners is designed specifically to meet the broad needs of farmers, bale contractors, gardeners, groundsmen, and other horticulturalists throughout the UK.
Made from specialised polythene to maximise your growing conditions, trapping temperature and humidity so your crops can grow in perfect conditions. They maintain growing conditions in this way, polytunnels are excellent for growing crops out of season.
You can request a free sample of any of our products.
Enter your details below and a member of the team will get back to you.
Please note there is a minimum order quantity.