Keep modules and equipment safe with industrial shrink wrap
Industrial shrink wrap is becoming a more common choice within the construction industry where modular buildings or large products are manufactured off site and transported to the site to allow for more efficient and quicker project completion.
The modules or buildings are vulnerable to damage when being transported. By utilising industrial shrink wrap rolls, the module shrink wrapping prevents this potential damage in transport.
The industrial shrink wrap system acts as a durable barrier keeping the building or module protected when in transit or when sitting outside exposed to all weather conditions in storage.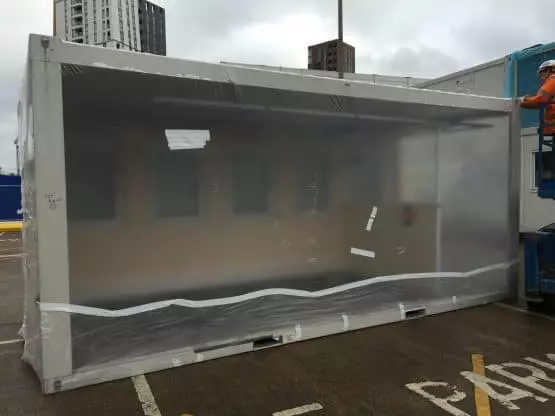 Industrial shrink wrap film vs traditional covers
Industrial wrapping film is designed to wrap tightly around the module forming a tough layer for your product. Unlike traditional covers, industrial shrink wrap film will not move – which could allow dirt to get under the layer and damage the product. It has a high tolerance to elements such as high winds which it will be exposed to in transport.
When fitted correctly, it shrinks to the product with no creases creating a tear-resistant layer – allowing it to be exposed to high winds without the threat of rips.
Our modular building covers can also be made in flame retardant, complying with LPS1207 standards, allowing you to be assured that your manufactured product will be protected to a range of potential hazards.
Other industrial shrink wrap applications
We understand every business has different needs. This is why we can manufacture these films using a variety of materials according to your business requirements.
We understand that suppliers need to ensure their products retain their manufactured condition until they reach your end user.
Using industrial shrink wrap your products, from modular buildings, aircrafts, and shrink wrapping boats, they can be protected throughout long transport processes and allow them to be exposed to all weather types without affecting the integrity of your product.
By ensuring your products reach your client in pristine condition, it helps to prevent potential damage caused by exposure to the elements and allows you to adhere to your project deadlines.
Technologies & Specifications
Polythene Bag specifications
Size: We can supply any size bag
Thicknesses:

125mu LPS approved
200mu LPS approved
250mu LPS approved
280mu LPS approved
320mu LPS approved
300mu B1 approved
Flame retardant treatments complying with LPS1207 standards
You can request a free sample of any of our products.
Enter your details below and a member of the team will get back to you.
Please note there is a minimum order quantity.