Agricultural Mulch Film
Our Mulch Film helps farmers throughout the UK to speed up the growth of their crops and provide healthier produce for better return on their yields.
In 2015, the UK saw an increase in wheat yields of 4.6% as a result of proper crop management, showing that the benefits of Mulch Film and other agricultural films are real.
The problem
Everything from UV exposure, water, and temperature can affect the growth, health, and quality of your produce. Britain's increasingly unpredictable climate is making it more and more difficult for farmers to anticipate seasonal changes and temperature, at the expense of their produce.
How Mulch Film helps
Mulch Film protects your crops against environmental changes by minimising the external conditions that could affect the crop, providing a more stable and nurturing environment for your plants' growth.
The film has been specifically designed to use sunlight to disinfect and kill harmful weeds. Easy to apply and remove, it can be used across a wide range of produce, including asparagus, lettuce, corn, perennial crops, red fruits, shallots, and seasonal crops.
Our Mulch Film material is also fully degradable, maintaining your green credentials and making it an environmentally friendly alternative to less green polythenes.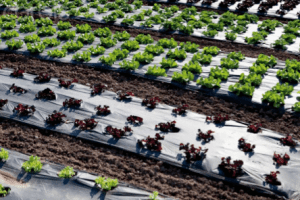 Key benefits
Our Mulch Film has been developed using some of the industry's most advanced technology to provide the following benefits for farmers:
Easy installation
Faster growth and development of crops
Reduce crop waste and provide healthier produce
Improve carbon footprint as the film is fully degradable
Reduce removal costs
Product specifications
We provide the film in the following sizes:
Thickness from 20µ to 100µ
Width up to 2.00m
For the holes, we provide the following options:
From 1 to 6 holes
Holes diameter 6/8/10cm
Parallel or alternate
Speed up the growth of your produce whilst reducing your crop damage with our Mulch Film. To enquire further or to place an order, call 01993 894811.
Our Agricultural Products…