What is Agricultural Stretch Film?
Our customers choose our Agricultural Stretch Film because it is developed specifically for use in the farming industry and they recognise us as a supplier they can trust.
No one is more passionate about the development and manufacture of the specialised polythene products you need, including our Agricultural Stretch Film for farmers and agricultural operations managers.
Protect your bales
The primary function of Agricultural Stretch Film is to protect your bales against wind, rain, wastage, and other environmental factors.
The film is specifically designed to provide flexibility, ease of use, and strength, for a stretch wrap you can rely on to secure your bales, every time. Its flexibility means you can wrap a variety of differently sized bales. Its ease of application means that you can wrap your bales quickly and simply. Its strength means you can depend on your Agricultural Stretch Film to keep your bales dry and secure, even in adverse conditions.
Farmers
Our Agricultural Stretch Film has been specially manufactured to meet the precise needs of farmers and farm managers for the best possible results when baling their crop.
No one understands the importance of quality stretch film like the farmers and farm managers who depend on it. Quality stretch film is essential for easy handling, long product life, and successful yields. To meet these needs, our Agricultural Stretch film combines innovative design and the latest industry processes to produce the strong, tough, flexible stretch film farmers need.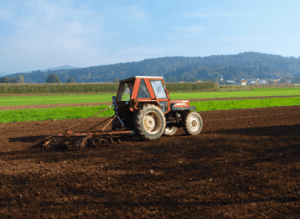 Bale contractors
We frequently work with bale contractors to help them source reliable, cost-effective solutions to their agricultural needs. Our Agricultural Stretch Film is one such product, helping to cut costs for more efficient agricultural processes and higher turnover.
Poorly baled crops suffers as quality deteriorates. Sometimes crop can scatter or rot, when wind and damp gets access to the bale. Low quality stretch film is also at risk of splitting, allowing pests and other wildlife access to the crop. All of this leads to reduced crop and financial losses. Our Agricultural Stretch Film prevents against these losses by providing strong, dependable protection for every one of your bales.
How do all of our customers benefit from our Agricultural Stretch Film?
Improved productivity – quickly and reliably protect your produce and other crops
Guaranteed quality – work confidently, knowing your farm produce is safe
Solid reputation – enjoy peace of mind that you're working with the best
Cost-effective – make use of some of the highest quality stretch film on the market at industry-leading prices
You won't find better Agricultural Stretch Film. To enquire further or to place an order, call 01993 894811 or contact our team online.
Find out more about our Agricultural products by calling 01993 894811
Our Agricultural Products…