Glad to be back at EcoPack
For the second year running we took a stand in the EcoPack hall at the annual Packaging Show at the NEC.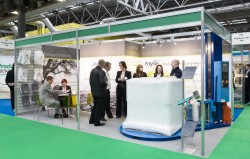 The main message we took to the show this year was our compostable checkout bags and the massive impact that they could have on the amount of waste plastic in our society.
We also held two live demonstrations on the stand; one promoting our Stretch Wrap Turntable that showed how this simple-to-use machine, when coupled with our Polylite stretch film (the highest yielding film in Europe) and purchased at our guaranteed lowest prices – ensures our customers are getting the best possible value for money.
We also demonstrated our soon-to-be in stock, Shrink Pro 010. The fact that we wanted to use a flame gun on the stand initially caused the organisers a deep intake of breath, but once a few of the team had received a Chubb qualification for use of our new fire extinguisher they gave us their full permission.
The show was a huge success, if we are given every order from every lead we got from the show, we will have increased our annual turnover by £1 million in just 2 days – amazing!