Pallet Covers And Industrial Packaging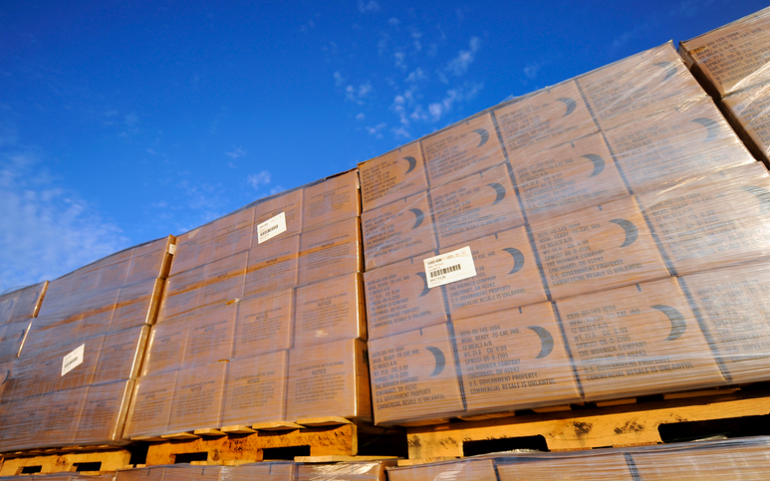 Packaging plays a huge role in industry. Commercial businesses depend on goods transportation in order to replenish stock, return stock, and receive the latest lines into their shops. Goods can expect to be transported both nationally and internationally, with potential storage times of weeks or months depending on the stock and business in question. Perishables with short shelf lives still require careful packaging, in order to preserve their quality during transportation and in-store.
At Polythene UK, we understand that strong packaging starts at the source. This means you and us. Whether you manage a warehouse, a factory or a production line, it is your responsibility to ensure your products arrive at their destination in the intended condition. It is our responsibility to provide you with the quality polythene needed to guarantee this.
Polylite
Industry is demanding. To cope with the stresses and strains of industrial environments, we designed Polylite, one of the toughest, lightweight polythenes currently on the market.
Polylite offers a wide range of advantages over traditional polythene. Its toughness is the result of strict product testing and multi-layered technology, ensuring the highest quality product. And because it's thinner, you can reduce the weight of your polythene consumption by 20%, leading to lower costs and greener environmental credentials.
Pallet covers
When it comes to pallet covers, strength matters. This is why we chose to use Polylite as the source material for Polythene UK's pallet covers, translating the toughness and slimness of our custom material into industry-leading pallet covers.
All of our pallet covers are manufactured to the highest standards.
They are available in Shrink and Non-Shrink, in sizes up to air cargo pallet cover dimensions.
Because they're thinner and lighter, you can save up to 20% in polythene costs and tax by choosing our pallet covers, helping you to save money while securing and protecting pallet contents in storage and in transit.
We can provide pallet covers in a wide range of sizes, thicknesses and quantities to suit any industrial function.
Sizes: 300mm to 4000mm wide
Thicknesses: 12.5mu to 400mu
View our pallet cover product page here.
Why should you choose Polythene UK?
You won't find anyone more passionate about polythene. This passion extends to our products, driving our product range at every turn. We know how important it is to businesses nationwide that your pallets are properly secured. We have made it our business to help you as much as possible with our industry-leading pallet covers and cutting-edge polythene material alternatives.
Contact our helpful sales team today with details about your existing polythene spend/applications, and we'll be happy to help advise you on how we can best help, ensuring you the best outcome for your business.
To find out more about Polythene UK's pallet covers, call us today on 0845 643 1601, or get in touch online.