Polythene UK Case Study : Construction Industry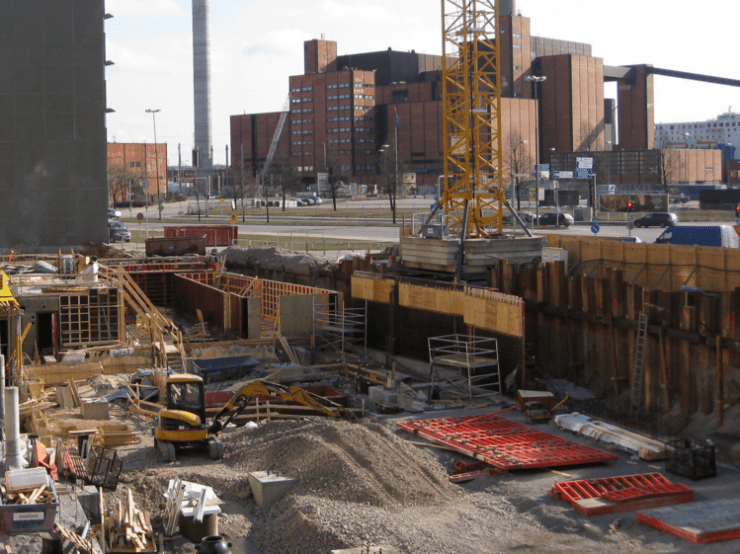 Shrink Film For Construction
We recently worked with a large building firm who needed a heat shrink film for their pallets but also wanted to reduce their carbon footprint. Initially the client was already aware of our two products:
However, they were unsure of which product would be appropriate for their needs and therefore contacted our team for more information. From this conversation we knew that they were currently using 30 rolls of 2000mm x 125mu x 25kg / roll every 8 weeks.
Our team discussed their criteria and needs and examined the best products that would help to meet these. The client initially wanted to use our Polyair film. However, to help make the transition from their existing material smoother, we suggested it would be best to switch to Polylite as a quick solution, and then graduate to Polyair once the client was used to the thinner material. We showed the client a demonstration on how Polylite works and, after using this product on a temporary basis, we began the Polyair trial.
The client now uses 2000mm x PL125 x 300mt / roll – 2000mm x 90mu Polylite Shrink, 50Kg NETT roll. Since using our packaging materials they have found that they can heat shrink their pallets much quicker and with less down time, as the reels are much longer.
Key Benefits
Reduction in down time – Whereas before the client had 105 metres per roll, by using our materials we increased that to 315 metres, meaning a reduction in downtime by 200%.
Reduction in costs – The client was also previously paying 40.5p per metre but by using Polyair we have managed to reduce this to 35p per metre.
Reduction in CO2 emissions – Polyair is a bio-based, carbon-positive material that is 100% recyclable. Therefore it can help to significantly reduce your carbon footprint. The packaging and waste saving per year by using our packaging has contributed to 3,500Kg LDPE / annum.
Since supplying the client with the materials we are now looking at working on the client's new sites. We can hold central stock in Gloucester where each site can receive their materials when required, reducing the lead time from 3 weeks to 2 or 3 days. The sites can therefore also benefit from group buying power to help get the best, most competitive price.
Let us help you with your next project. Get in touch with our team today by calling 0845 643 1601* or contact us online.