Carbon Reduction and Carbon Credits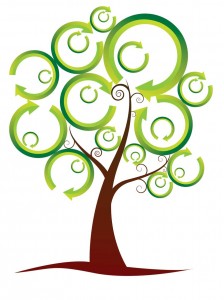 This month I've been thinking about carbon reduction (here he goes again I hear you say).
I recently purchased another 500 trees in order to offset the carbon footprint (CO2) we create running our Polythene UK offices in Witney, and it got me wondering…
… Is it possible for polythene to qualify for carbon credits? Thinking about it, I believe our Polylite material could!
Carbon credits are issued by the Carbon Trust to companies who are producing greener products or taking steps to decrease the impact CO2 has on the environment. The greener the product or action the more carbon credits you get. Take my trees for instance:
1 tree = 700kg of CO2 per tonne over a 40 yr lifecycle – a carbon credit value of £9.00
The company we buy the trees from sells these carbon credits to large FTSE100 businesses to offset their voluntary code of practice to reduce carbon emissions, basically they buy carbon credits to balance their carbon books.
So here's my thinking:
IF: 1 tree = 0.7 tonnes of CO2 in 40 years
AND: We sold Polylite to 35 new customers in January who saved on average 400kg of LDPE each a total of 14,000kg (14 tonnes)
THEN: 14,000kg of LDPE saved by sales of Polylite @ 2.6 tonnes of CO2 per tonne = 36.4 tonnes CO2 saved in just 1 month on the first orders from new business alone!
RESULT: Polylite is officially greener than trees!
We have applied to the Carbon Trust to get them to come and assess Polylite and award it a carbon credit rating (much more than £9 if the figures stack up). If successful, we can sell the carbon credits generated from Polylite sales onto the FTSE 100 businesses. This would mean we could reduce our prices and pass the savings back to you the customers that have helped us create it in the first place – Come on the Carbon Trust! A saving is a saving – even if it is polythene!
Our application is in we will keep you posted. If you want to talk to me more about this give me a call on: 0845 643 1601* or contact us.