Econospeed – Less Haste More Speed…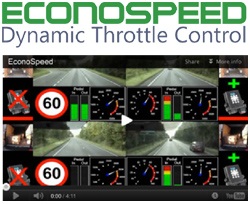 We all have one eye on costs!
Fuel prices are spiraling
Our businesses are under pressure to reduce our carbon footprint, and our employees often tend to drive our delivery vehicles as if they are running late!
Here at Polythene UK we have been looking at ways of reducing our costs and our CO2 output.
We decided to install Econospeed on all our delivery vehicles. It is proven to give up to 15% fuel savings and reduce vehicle wear and tear and the likelihood of accidents.
Developed in partnership with OEM's, EconoSpeed is a dynamic throttle controller that allows a vehicle's maximum road speed, engine speed, and maximum rate of acceleration to be limited by any customer defined criteria. For example:
Maximum road speed to be limited to 62 MPH / 100 KPH
Maximum rate of acceleration set to the figure normally obtained under 'full or part-load' conditions
Maximum engine RPM set to 3300 RPM.
Simple, effective control
By electronically restricting the vehicle's maximum rate of acceleration to simulate that of a part-laden vehicle, and forcing earlier gear changes by limiting the maximum revs, EconoSpeed mimics the behaviour of a careful, economical driver.
Proven fuel savings of up to 15%
Enhanced safety
Reduced engine & drive strain 'wear and tear'
Consequential savings on maintenance costs
Assists with duty of care compliance.
About Polythene UK
We supply Polythene to a wide range of Nationwide clients, as well as supplying the lowest cost for pallet wrappers in the UK. Click to find out more about our Pallet Covers, Machine Stretch Film, Hand Pallet Wrap and Pallet Wrappers.