Not quite a goner…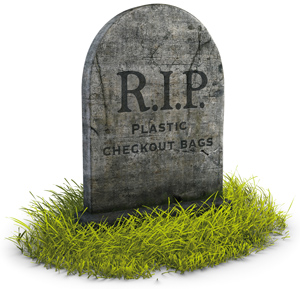 Due to the Government's ongoing drive to reduce the amount of polythene waste that is ending up in British landfill, David Cameron kindly gave me his full backing when I arranged to meet with one of the UK's major supermarket chains in order to discuss our 100% compostable Polycomp checkout bags.
I presented our case for replacing the existing plastic checkout bags (most of which are imported from China) with our Polycomp alternative that could be sold for 10 pence each at the tills – the same price as the caddy bags we are now all having to buy for our food waste recycling. The compostable checkout bags could be reused in food caddies, creating savings all round:
1. Saving the need for the customer to buy rolls of food caddy bags
2. Saving the need to manufacture, transport or stock the rolls of food caddy bags
3. Saving the need for plastic checkout bags at all.
My main point though, was that changing to compostable bags and reusing them in our food caddies will mean NO more plastic checkout bags going into landfill.
Unfortunately, my argument wasn't helped by the recent article posted by The Independent online, which outlined details of an unpublished report from the Environment Agency. The article entitled 'Plastic Fantastic' states that the draft report "found that ordinary high density polythene (HDPE) bags used by shops are actually greener than supposedly low impact choices."
So for now, from a purely commercial viewpoint, the existing checkout bags which cost the retailers around 1.4 pence each remain a more attractive alternative to the environmentally advantageous compostable bags that will cost approximately 5 pence, but which as outlined above can be charged for as they prevent the need for the consumer to purchase rolls of caddy bags.
I am so convinced that Britain will follow the likes of Italy in eventually banning the use of plastic bags, I intend to arrange a meeting with the Environment Agency in order to debate this matter further. I see no reason why areas with anaerobic digestion centres should not ban them immediately! I will keep you posted. In the meantime let me know your opinion – you can email me at: [email protected]
On a positive note and despite the temporary set back in my mission to see the end of plastic checkout bags, Polythene UK has been asked to quote for all of the pre-stretched pallet wrap used by this major retailer. We will of course be pricing our exclusive Polylite film which will not only enhance their 'green' credentials by reducing their carbon footprint but will save them approximately 20% on their costs.