Polythene UK at the Trilby Tour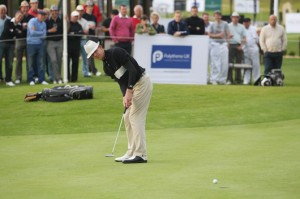 Polythene UK's Managing Director, James Woollard, was one of the sponsors and players at the Rockliffe Hall round of the Trilby Tour.
The course features a number of difficult to navigate bunkers, making the course a challenging round for the entrants of the 2011 Trilby Tour. Unfortunately a large number of players spent time trying to navigate out of the sand. Combined with the threatening skies, it took a few holes for the players to get used to the course. Despite this, scoring was fairly consistent and even for the first 4 holes.
The 5th hole however, split the field. It involved a shot across water on to a small island. The undulating green meant a less than perfect shot would see the player's ball rolling or dropping in to the water.
By mid-afternoon the weather had worsened, with the threatening clouds turning black and the wind picking up. Shots later in the day were hindered by strong headwinds, meaning the early starters had an advantage. This made for frustration amongst some of the former leaders.
Spirited play and skilful putting in light rain decided the final winner, with tears being shed on the green.
Polythene UK's managing director, James Woollard, said:
"We had a great time at the Rockliffe Hall sponsors day, and a chance for our team to get on to the real event the following day.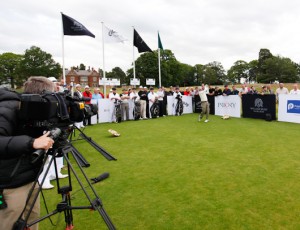 On arriving at the course, I was thrilled to see the Polythene UK banner between the banners for Sky Sports HD and Callaway Golf, Jack Daniels next but one.
The golf was excellent, one of the best courses in the UK without a doubt. One of the team went round 2 over par, but he was a professional for 8 years. When he was younger the rest of us struggled, but I did par the island green which made my day complete. I was the only one to find the green from our 4 ball!
I recommend Rockliffe hall to all golfers and remind you to take your wife who can relax in the luxurious hotel and spa facilities.
The day was finished off perfectly by a wonderful meal in the Orangery in the evening, cannot wait to do this again.
The 4 ball was myself, Paul Metha (Polyclear) Steve Bryan (Printed Polythene) and Mark Davis (M D Packaging), who won the draw to play at Rockliffe Hall with me
Because of the overwhelming requests to play, I did another draw and put a 4 ball for the Brabazon course at the Belfry for next Friday. I'm looking forward to meeting some more customers next week!"
The Trilby Tour show will be screened on Sky Sports, 29th August at 10pm, with numerous repeat showings.