Polythene UK Sponsor Sobell House Charity Golf Day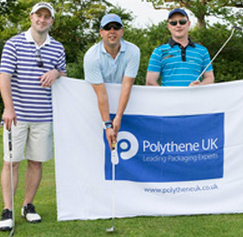 Polythene UK is proud to have been headline sponsors at the recent Sobell House Charity golf day.
The fundraising event was held at Studley Wood Golf Club.
Kelly Houghton, Sobell House, Corporate/Community Fundraiser commented, "I would like to take this opportunity to thank Polythene UK for once again supporting the Sobell House Hospice Charity Golf Day. I hope you agree that the event was both a success and a truly enjoyable day. Your support and the money raised from the day, which was around £10,000, will help to continue the invaluable work of the hospice in providing palliative care throughout the county to sufferers and also support to their families."
The Polythene UK team consisted of intrepid team leader James Woollard, Kevin Lewis and Jake Bassi.
Kevin Lewis describes their fortunes on the course:
"The charity golf day was really good, perfect weather for it, no wind and gorgeous sunshine (so we had no excuses to play badly).

We started off very hopeful that this could be our year; James purchased a 'flag finding device' from the club shop which gave him an accurate distance from his ball (in the rough) to the flag. We hoped it would give us the competitive edge we'd been missing in the last few years.
Our high expectations lasted until the first tee off when Jake's drive barely rolled passed the ladies' tee. However, we battled on, led and coached by James – I particularly learnt a lot from his advice on club selection (basically to ignore it)!
By the 4th hole we had all found our swing and began to relax, especially Jake when the gin and tonics and red wine had kicked in. We made full use of the '2 mulligan's rule' and James found and exploited the not so well known rule of buying team mates mulligan's when he had used his.
On the 16th hole which is 132 yard par 3, James hit what we believed to be a very wayward tee shot, but unbeknown to his team mates he was expertly using a tree to bounce his ball back onto the green… some would call that luck…. James called it 'course management'.
The most amazing story of the day had to be Jake's Birdie… it was amazing because of the level of alcohol consumed. James also got a birdie and I definitely hit the longest straightest drive of the day (280 yards….. downhill wind behind me!)
We most definitely didn't win, but we had a lot of fun and raised a lot of money for a very good cause."
If you would like to make a donation to Sobell House visit:
www.sobellhospicecharity.org.uk