Golf-day green fees raise another £10,000
We are once again very proud to have sponsored one of Sobell House Hospice's main fund raising events.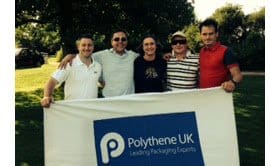 On Friday 6th June, Sobell House Hospice held their 5th charity golf day at the Studley Wood Golf Club in Horton-cum-Studley.  Studley Wood is a beautiful course, set in 177 acres of tranquil Oxfordshire countryside.
Teams of four competed in the event and there were prizes for the first three teams, plus smaller competitions throughout the day. A fabulous day's golfing was followed by a two-course dinner and charity auction.
Kelly Houghton, who is in charge of fundraising for the charity, recently emailed James saying:
"I would like to take this opportunity to once again thank Polythene UK for being a headline sponsor at our Studley Wood Golf event. I hope you agree that the event was a success and a truly enjoyable day, helped by the fact that the weather was wonderful this year.  
Your support and the money raised from the day, which was around £10,000, will help to continue the invaluable work of the hospice in providing palliative care throughout the county, to sufferers and also support to their families".
Copyright © 2014 Polythene (UK) Ltd,
All rights reserved.
You are receiving this email because you opted into the Polythene UK mailing list
Our mailing address is:
Polythene (UK) Ltd
31c Avenue One, Station Lane
Witney
Oxfordshire, England OX28 4XZ
United Kingdom