Newsletter: View From The Top
Firstly I would like to say that I hope you all had a wonderful festive break and that January has proven to be a good start to the New Year – despite the snow which has a way of freezing momentum!
As you know we are nearing the end of the renovation to our new offices. Once finished, the building will boast a fully sustainable renewable energy system which will see Polythene UK functioning as a fully sustainable, carbon negative business.
More and more often we are being asked, especially by some of our larger customers, to evidence our environmental policies and demonstrate our ongoing commitment to reducing our environmental impact. We are being asked to prove that we are addressing both the impact on the environment from the products we supply and the reduction of our own carbon footprint. I am sure there are many of you out there who are being asked the same thing… the fact is, if you want to maintain existing business or win larger accounts, you may well have to been seen to be doing more!
I hope that the experience I have gained, ensuring that Polythene UK will become the most carbon negative business in the packaging industry, will help you going forward. I think our pro-active approach will give us an even more unique supplier proposition and set us ahead of our competitors.
This month: Solar PV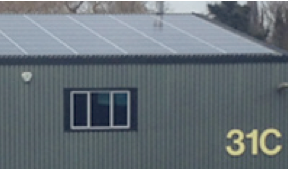 The new building will have a 25 Kilowatt PV System on the roof, delivering around 22,000 Kilo Watt hours of electricity per annum, which will supply all our electricity during daylight hours, which is in fact the only time we use it.
The really good bit – Over the next 30 years this system will produce 507,000 kilo watt hours which equates to 276 tonnes of C02 being saved!!
This initiative is something that you can do very quickly and relatively inexpensively for your business – the fact that you can expect payback within 6 years makes a system like this as good for your bottom line as it is for the environment.
Additionally, a new solar PV system is highly visible proof of our ongoing commitment to the environment, it's a no brainer really.
Next month
I will outline our plan to supply green central heating for nearly 8,000sq ft, which will house our 6 new offices and around 25 people.
If you want to have a chat about solar PV or any of the other renewable energies we will be installing, give me a call on 0845 643 1601* or email me at [email protected]
Did You Know?

We are once again into the fray dear friends. We are entering the 2013 Oxfordshire Business Award for Energy and Environment which is sponsored by Oxfordshire County Council.
The judges are looking for evidence of:
Energy: achievements in reducing carbon emissions by promoting energy efficiency and renewable energy
Resource efficiency: measurable improvements in reducing consumption and improving efficiency in resource use (e.g. reducing energy, water and waste); use of sustainable or recycled materials
Innovation: new and innovative ways of improving corporate sustainability in business activity and products
Job creation: new jobs created as a result of environmental operations
Judging visits will happen in April and the awards dinner will be held at the Oxford Thames Four Pillars Hotel on 21 June.
We will let you know how we get on – watch this space!