Did you know? Polytape150
This product, in true Polythene UK style, will not only save you time and money, but will dramatically reduce your packaging waste.

The secret of Polytape150 is a small core and a huge roll length – simple but ingenious!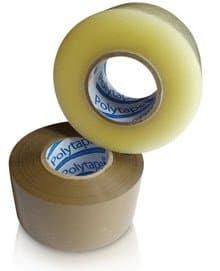 With 150 metres of tape per roll, it is nearly 3 times the length of standard 66 metre rolls. Polytape150 will dramatically increase the productivity of your packaging operation.
Considerably cheaper per metre than the industry accepted standard rolls, it will not only save you money and ensure a reduction in downtime due to changing finished rolls, it will also dramatically reduce the amount of accrued waste.
With standard rolls of tape averaging £0.60 per roll for 66 metres and Polytape150 available from £1 per roll for 150 metres (price depends on the amount purchased) – the question of ROI is a no brainer! You do the math…
If you have any questions about Polythene UK, our fantastic products, or how you can save your business money by using our polythene, please get in touch today: 0845 643 1601*