March 2013: View from the top
James Woollard, Managing Director
Last weekend saw the Polythene UK family move to our new offices. The renovation is complete and we now carbon negative and certainly the most environmentally friendly commercial entity in the polythene industry, the county of Oxfordshire and possibly the UK.
Our new building boasts a fully sustainable renewable energy system which you are all welcome to come and experience – the bottom half of the building has been rented out to one of our partner companies 'Earth Save Products' who will have a fully equipped show room, which will be full of the latest renewable energy technologies.
I'm pretty sure, as part of your drive to increase sales, you will have been asked for actual evidence of your environmental credentials – renewable energy might be the perfect vehicle to enhance these, while at the same time being financially beneficial. Yet another win/win from me to you.
This month: The Ecocent hot water cylinder
We have invested in 1 x 300 Litre Ecocent Air to Water Heat Pump which will be give us plenty of hot water.
It will run using electricity generated by the solar PV system which, don't forget, is free!
The Ecocent will extract the heat from the server room and use it to heat all of our hot water. In turn, this process will create cold air which can, in warm weather, be sent back into the server room and offices as free air conditioning. (During the winter months this cold air will be channelled out through a vent in the roof). The Ecocent has an integrated mechanical ventilation and heat recovery system that is the most efficient in its class.
We anticipate that the savings on hot water provision will be around £250 a year, with associated carbon savings.
Next month:
I will outline our plan to supply green central heating for nearly 8,000sq ft, which will house our 6 new offices and around 25 people.
If you want to have a chat about any of the renewable energy technology we have installed, give me a call on 0845 643 1601* or email me at [email protected]
Did you know?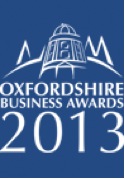 Such is the legendary reputation of PUK, we are not only entering the 2013, Oxfordshire Business Award for Energy and Environment but have been INVITED to enter the Oxfordshire Business Employer of the Year Award.
Last week, sponsors Darby's contacted James saying that they had heard great things about Polythene UK (maybe, someone nominated us?) and asked if we had considered entering the award. The upshot is that we are now working on two award entries.
Have we got what it takes to be Employer of the Year? We will find out when the judges interview our staff…
"Did I mention my plans to put a pool table into the recreation room in our new building!!"
James Woollard, MD
Watch this space… !