New Adventure Centre Is A Real Plus

James Woollard MD, recently met up with Jon Cox from Adventure Plus to visit the acre of land that Polythene UK sponsored for them.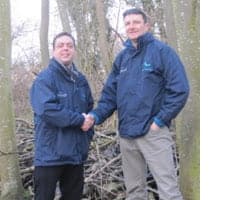 We wanted to help the charity purchase the land they needed to build a new outdoor activity centre, the 'Adventure Base'. The new centre will benefit troubled youngsters for years to come.
To see more of the charities plans for the centre and how the money raised will be spent, have a look at their fundraising video on YouTube.
Once Adventure Plus is ready Polythene UK will sponsor a 'tree planting day.' We will get all members of staff on site for an afternoon in order to enable the planting of a decent amount of trees.
Visit the website www.adventureplus.org.uk if you want to donate or contact James if you want to take part in the tree planting – the more the merrier!

About Adventure Plus

Adventure Plus have worked with over 35,000 young people and adults through outdoor adventures since 1990, including some of the most vulnerable in our society. They are supported by more than 350 volunteers and many individuals, charitable trusts and churches.
"One of the most exciting charities around for inspiring young people to get out there, grab life & live boldly!"
Bear Grylls, Patron
Their greatest asset, so we are told, is the team of activity instructors, both staff and volunteers, who are passionate about encouraging the 5,000 young people they work with each year, enabling adventure & education in a positive Christian environment.