SpecialEffect Raise Over £100,000
Over £100,000 has been raised so far by the SpecialEffect Twin Town Challenge. 
Fifty £500 cars travelled from the UK to France last month in the madcap motoring event that included challenges at Brands Hatch and Le Mans.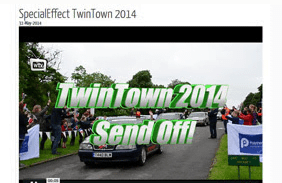 Polythene UK sponsored the start of the race at Cornbury Park – have a look at the highlights video and see if you can spot James as he enthusiastically waves the teams Bon Voyage.
Mick Donegan, CEO of SpecialEffect said, "The whole glorious event was a massive success, and we're indebted to an astonishing number of people for an unbelievable amount of hard work over the last few months. All the money raised for the event has gone straight into the work we do and I personally applaud the generosity of the teams, plus many, many other individuals and organisations including Polythene UK. The money raised will make an immediate difference and help people with disabilities benefit from leisure technology. We've had a huge rise in demand for our services recently, and this will help us to buy more equipment and employ more staff to meet the rapidly rising demand for our services."