Stretching Your Budgets Further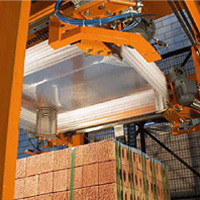 Polythene UK's stretch hood films using our exclusive Polylite material – will save you even more on your costs and further reduce your carbon footprint.
This application provides an environmentally safe, cost effective energy saving, and a convenient way to protect your palletised materials. Stretch hood films combine the weather protection and load stability advantage of pallet covers with the economy of stretch film.
As the UK's leading supplier of packaging products, Polythene UK is among the best in the industry when it comes to producing shrink and stretch films of all sizes. Stretch hood films make use of ethyl vinyl acetate co-polymers (EVA), to stretch a film without permanent deformation. This allows the film to form snugly around the dimensions of a pallet, which limits movement and protects the contents from dirt and water contamination.
The big benefit is that the film or pallet cover is 30% smaller than the load it is intended for – therefore it weighs 30% less, reducing both the price and your carbon footprint.
A one-piece hood is made in the machine from a continuous roll of layflat or gusseted film. The hood is stretched over the load and secured under the pallet. Stretch hood film is ideally suited to applications where pallet loads require five-sided protection, encounter stress during shipping or where products are sensitive to heat. We also supply films/covers for manual applications. Our Polylite stretch hood film is available in various colours and can be printed with your company's branding.
We are also supplying plain and printed rolls of tape. The most popular plain tapes are in buff and clear and you can also have 'flat' coloured rolls in red, blue, yellow, and green. Additionally, you can enhance your branding/messaging by printing your own design.
Two types of material
Poly Prop
PVC
Adhesives
Poly Prop: Acrylic
Acrylic Low Noise
Hotmelt: Solvent
Solvent Low Noise
PVC: Solvent
Standard Sizes/Popular Sizes
Width: 18mm/24mm/36mm/48mm/72mm
Length: 66m/132m/990m (machine rolls)