This month: Air Source Heat Pumps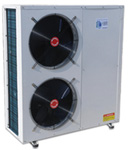 Our new building which is 8,000sq ft and houses 6 new offices and 25 staff, will take a bit of heating. As part of our drive to be self sufficient we have installed 2 x 25 kW air source heat pumps.
These pumps will heat both floors (approx 4,000 sq ft each). They are linked together and work in unison creating a smart system which runs from 1 to 6 compressors depending on the temperature outside and the heating requirements inside the building. Because our Ecocent hot water cylinder (featured in last months newsletter) is supplying our hot water the air source heat pumps only have to work in the cold winter months to provide our heating, making this combined solution the greenest, most cost-effective solution in Europe. These units will generate approx. 150,000 kWh of heat per annum which equates to a CO2 saving of 30.9 tonnes.
Also these heat pumps will run using electricity generated by our solar PV system which, don't forget, is free!