Polythene UK Opens New Green Offices
Our new offices and a view from the top, by Managing Director James Woollard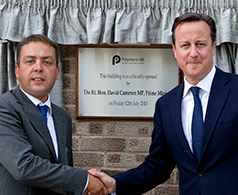 This month I am delighted to announce the official opening of our new offices by none other than David Cameron, Prime Minister.
The PM gave much praise to our green mission during his visit on Friday 12 July. He complimented us on our new sustainable office building as well as our exclusive range of products that offer greener alternatives to standard polythene.
Mr. Cameron said: "The new office building is fantastic and I am pleased to hear just how environmentally friendly it is. With their new offices and exclusive products Polythene UK are certainly proving their green credentials and I hope that other UK businesses will feel inspired to follow in their footsteps."

As I might have previously mentioned, a lot of planning and investment has gone into making Polythene UK one of the country's leading packaging experts and building our reputation for being the most environmentally friendly commercial entity in the polythene industry. Both of these objectives tie in neatly with one of David Cameron's first declarations as Prime Minister; to create 'the greenest government ever.'
Well, I wanted to create 'the greenest polythene company ever' and it seems that we are now getting there.
We all felt very honoured that David Cameron took the time to open our new building and it's fantastic that all of our green efforts are being recognised. CSR is a key trend right now and we are now set up to help our clients carry out their own green agendas by providing 'across the board' greener solutions. Consideration for our impact on the environment will continue to be our main focus from both operational and industrial viewpoints.
I fully intend that Polythene UK will set the environmental standards for others to follow. My mission is to be as carbon-positive as possible.