300% Machine Film
Get more bang for your buck with this impressive product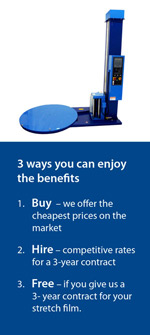 The latest addition to our 'standard' stock items is a 300% machine film. This film available in 17, 20 and 23 micron, ensures you benefit from the highest yields in Europe.
Benefits compared to 250% machine film:
a 14% higher yield than 250% machine film
minimum of an additional 750mtrs per roll
wraps more pallets per roll than 250% machine film
less down time and roll changes
3 ways to make the best of your yield
Our new range of automatic stretch wrap turntable machines boast the latest levels of micro-computer intelligence and Panasonic electrical components.
They have a power pre-stretch motor that can increase your film yield by a massive 300%, offer a choice of manual or fully programmable modes and come with a 12-month parts and labour guarantee.
They are simple to use and easy to maintain, all machines come with a FREE tool kit and spare micro switches.
Key points
Photo cell height detection
Variable turntables sizes available 1.5m – 2m
Optional extra
Press arm (holds the product on the pallet in place whilst wrapping)
If you are interested in our 3 easy ways to get your new stretch wrap turntable, please contact our sales team.