Are you Organised for the Festive Season?
I know Christmas seems to come earlier every year, and nobody gets more frustrated than me when I see the first Christmas decorations on display in mid-September. However, as the inevitable is now happening and Christmas is in fact, just around the corner, now is the time to start thinking about pre ordering for the Christmas period to avoid possible delays in delivery.
The next few weeks are always our busiest time, so in an effort to make things easier for all of our customers we are now pre allocating our standard stocks for 'just in time' delivery. We are also offering a FREE stock holding service which allows customers to pre-order in bulk and call off at their convenience over the next 3 months.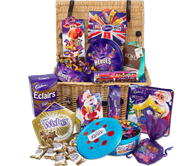 Additionally, and by way of a bit of a thank you – all orders placed for delivery in December will be entered into our festive prize draw and could win you a Cadburys Christmas Hamper worth £75.00.
Contact us and order today for a chance to bag yourself a bit of Christmas cheer.
Christmas closing
Shutdown – 23 December 2011
Reopening – 3 January 2012