When the going gets tough… we get selling!
Brand new film is the strongest on the market – exclusively from Polythene UK
One of our key supply-chain partners has exclusively offered us a very new, and very exciting film to exclusively sell to the UK market.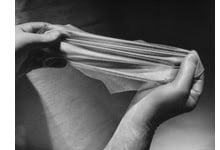 We have yet to name this product, but it's the strongest polythene we have ever seen. Its strength comes from the unique way that it is manufactured. During the extrusion process, the bubble of polythene is deliberately extruded to be very fat in the middle of the 2 opposite sides of the bubble. It is then permitted to stick together so that it is twice as thick. Then while still hot, the film is squeezed
through a set of hot rollers which reduce it to the desired thickness. The flat film is then allowed to cool and when it does it becomes practically rigid – at 70mu you physically cannot put your thumb through this film.
James Woollard MD says, "The film was initially invented for the loft insulation manufacturers like Knauf and Rockwool for wrapping the rolls of loft insulation however, the mind boggles at the opportunities Polythene UK can potentially reach with this new film. We have ordered some trial rolls for stock so that we can send samples to our customers and prospects. We are normally very comfortable with a 20% reduction in thickness with our range of Polylite™ films and bags but the strength of this material means that it could easily end up half the thickness of the polythene you currently use – think of the potential savings… watch this space!".

For more information, or to obtain a free sample – Call the PUK sales team today! 0845 643 1601