New Shrink Pro 10 Heat Shrink Gun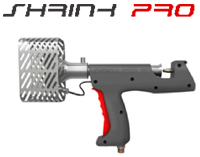 We are very excited to announce the launch of our new SHRINK PRO 10.
Exclusively designed for Polythene UK, it will rival the previously untouchable Ripack.
Rather then copying the existing Ripack design which holds no UK patent (and we have had our fingers burnt on that before), we gave our designers the 2 market leading shrink guns (both Ripack and the Shrinkfast) and said "we want something with as much quality but better performance for a sensible price."
Well, we're sorry to say, Ripack and Shrinkfast, but our designers have nailed the brief! We will now take them on toe-to-toe by offering this sensibly priced, quality product to all of our customers.
Of course getting you all on board with our polythene products is our main business, but we want to further enhance our relationships and reward your much appreciated loyalty, by developing this new technology and bringing it to you at near cost.
To order yours, or any of our other polythene products, please call our dedicated sales team on 0845 643 1601 or email [email protected]