Pallet Covers in Stock and Ready to Order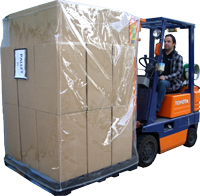 We are currently stocking a large range of pallet covers made from our exclusive 'Polylite' material.
Due to our special manufacturing method, this multi-layered, tough, lightweight film offers great strength at lower gauges whilst using 20% less raw polymer.
The effect of this is typically a massive 20% cost saving and a 20% reduction of the carbon footprint.
Our pallet covers have been designed for their strength and ease of application. All covers are manufactured to the highest standards to ensure secure and protected pallet contents, both in storage and in transit. They are available in shrink and non-shrink versions, with sizes available up to air cargo pallet dimensions.
Stock available for next day delivery (if ordered before 2 pm)
1250mm/2300mm x 2000mm x PL125
1300mm/2500mm x 2000mm x PL125
Minimum Order Quantity 3 rolls:
Don't forget, any orders you place will entitle you to one of our new CO₂ reduction certificates – showing your customers that you are a carbon careful company.
To find out more about our new Polylite pallet covers or how to get your CO₂ reduction certificate please contact us today.