Polythene UK Newsletter!
News For June 2013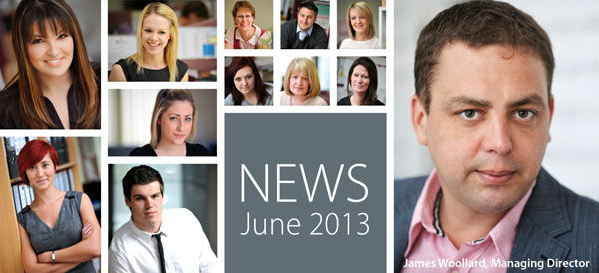 A View From The Top – James Woollard, Managing Director 
The Green Key to Success!!

I would consider myself to be (in the words of Carlsberg) PROBABLY the best salesman in the world! However, as anyone else in this field will tell you, I know only too well that the hardest part of any sale is initially opening the door…
Well, I am happy to report that our new, and impressive, levels of sustainability (combined with a marketing drive that clearly positions Polythene UK as the 'greenest' supply chain partner in the industry), is not only showing massive success in our latest sales drive but is in fact, proving to be 'the key' to unlocking some of the closed doors we have been coming up against.

Our telesales team is now opening doors with various FTSE 350 companies, who prior to our sustainability drive wouldn't have looked twice at an SME polythene broker in Witney. Our extraordinary credentials together with our NEET recruitment policy are creating an awful lot of interest. It's a fact that having Polythene UK as a supply chain partner can only serve to enhance your own CSR.
We are currently in close talks with 3 or 4 blue chip companies (who shall, at this point, remain nameless) and are looking forward to not only winning new key-accounts but having to recruit further NEET apprentices to increase our workforce – yet more sustainability at work!
As usual, in the spirit of encouraging a greener approach, this month I am highlighting the benefits of our renewable heating system …
This month:  Thermovec Radiators and Underfloor Heating (UFH)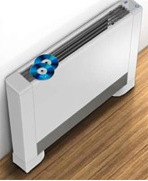 Our new unit features two of the latest technologies in room heating systems – a new, super efficient radiator system and an alternative underfloor system. The benefits of each are outlined below:
Thermovec radiators use state-of-the-art technology in small, low-cost, high-performing radiator units. They are half the size of conventional radiators and only require the hot water to be 40°C in order to run efficiently.
By using cooler water and an integrated low-energy fan to circulate the air, they increase heating efficiency by up to 3 times.
Thermovec are slim, LST (Low Surface Temperature) radiators that incorporate a timer and a remote control. Plumbed in the same way as normal radiators they will significantly reduce heating bills in both commercial and domestic applications.
Lower water temperature equals lower fuel bills. 
Our Underfloor Heating (UFH) system uses heated water-filled pipes buried under the floor and operates 30% more efficiently than traditional radiators. The system delivers heat energy evenly into each room, gently warming the space through a combination of radiant heat and heat conduction. As the entire floor area provides the heat, the actual temperature needed to heat a room is much lower than with a traditional radiator system, eliminating cold spots around the room and saving on energy bills.

An even heat rising from the floor provides maximum warmth to the feet and cooler but more comfortable temperatures at head height – unlike a traditional radiator system where the maximum temperature is at ceiling height and the lowest is at floor level.
UFH can be used with any heat source including standard gas and oil boilers, range cookers and renewable technologies such as biomass, ground and air source heat pumps.
Next month: 
I will tell you about our External Wall Insulation.
If you want a chat about any of this, give me a call on 0845 643 1601 or email me at [email protected]
Did You Know?

It was the fact that Polyair is the first 'carbon negative' material, available across a whole range of films, which piqued the interest of the radio station.
New Polyair is the only 100% recyclable, carbon negative material on the market and, from a customer point of view, more importantly is not cost inhibitive. It is truly the greenest material we know of.
Think what this material could do for YOUR green credentials!
Rather than being oxy-degradable, this new material is bio-based. New Polyair is made from sugar cane and it's the process of photosynthesis as the plant grows that makes it carbon negative. The sugar cane actively captures CO2 from the atmosphere, while at the same time releasing oxygen – making this material not just green, but proactively green.
OBA Energy and Environment Award – FINALISTS!
Polythene UK has been announced as one of 3 finalists in the Oxfordshire County Council Energy and Environment award. Whatever the outcome on the Awards night later this month, we are all delighted that our ongoing work to improve, and evidence, not only our sustainability but that of our customers is being recognised.
New Client blows in on the back of Polyair
We are delighted to report that following the launch of our new Polyair Bio-Film (first reported in the March 2013 issue of this newsletter) we had a direct call from one of our readers who was very interested in what this material could do for him.
This client has an annual spend of an anticipated £40K and was hoping to 'shop smarter' with regard to both cost and carbon footprint. After initial discussions where we looked at his requirement, we found that we could make these improvements for him across various products he was buying, including:
Top Sheets
Hand Pallet Wrap
Cast Machine Film
Printed Polythene Bags
What we also found is that some products, due to the type or the amount required, that couldn't be replaced with Polyair, could in fact be substituted with Polylite which also improves his ROI. It is a solid fact that our exclusive products are PROVEN to be a beneficial substitute to standard polythene – time and time again!!
If you want to see what our new bio-film Polyair and our low polymer Polylite can do for your company, call our sales team on 0845 643 1601

Face2Face – Ricky Skipp
Job Title: Tele Sales
Role: Sales
Interests: Major League Gaming and Extreme Sports
Likes: Jagerbombs!
Dislikes: Running out of cash on a night out!
If you could have any super power what would it be? Telekinesis
If you could compare yourself to any cartoon character which one would it be? Sonic the hedgehog
What do you like about working with Polythene UK?  The hours, the people, having weekends off and being able to do my work whist sitting at a desk!

The Boys Did Good! On and off the Pitch…
James, wearing his red football boots, captained the Oxford United Legends against the SpecialEffects Allstars and led them to an impressive 6-5 win in a recent charity match at Marsh Lane, the Oxford City FC ground.
The game was held in aid of SpecialEffect, a brilliant Oxfordshire-based charity dedicated to improving the lives of disabled young people through computer games, and the Charlotte Nott Trust Fund.
Little Charlotte was joined by football legends to kick off a star-studded charity football match. Former manager Ron Atkinson, sports presenter Jim Rosenthal and entertainer Timmy Mallett were joined by a host of former Oxford United players.
More than £6,000 was raised at the event which will be split between the SpecialEffect charity and Charlotte's trust fund. The SpecialEffects JustGiving page is still open, so if you would like to contribute you can do by following this link:
Speaking before the game, 'Big Ron' Atkinson said: "Anything we can do for a charitable cause is worth doing."
Jim Rosenthal, said: "SpecialEffect is a wonderful charity, and little Charlotte is such an inspiration, so if I can run around in my 60's and show everyone how bad I am, it's not too much to ask for others to donate to these great causes is it?"