Polythene UK sponsors Young Enterprise
Last September, 180 students from schools across Oxford set up 15 Young Enterprise companies and have been trading to date.
Enterprising teams of 15-17 years olds have nine months to turn an innovative idea into a going business concern; forming a Board, producing a company report and of course making a profit for their shareholders by selling their product.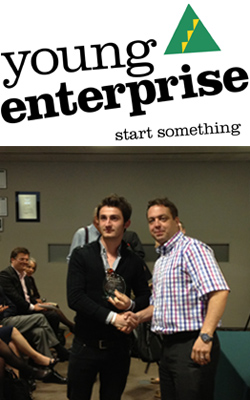 The nine companies from Oxford schools took part in the first round of the Young Enterprise HSBC Innovation Awards hosted by Harley-Davidson Europe. They were competing for awards including the Young Enterprise Award, Best Presentation, Best Trade Stand and Best Financial Management.
Polythene UK sponsored the Young Enterprise Award and James Woollard presented it to Opus, a company from Oxford High School who run musical team building activities.
Opus offer a range of programmes designed to give musical inspiration to groups in schools, churches and businesses – without the use of instruments.
The Oxfordshire Spires Academy previously coached by James also took part and won the Best Presentation Category.
Bernard Grenville-Jones, of the Youth Enterprise Scheme, said, "James has been an inspiration to Young Enterprise students in Oxfordshire. As a business leader in the county, nothing beats the sense of pride and excitement that a Young Enterprise final delivers…"
Find out more about our polythene and Polylite packaging products by viewing our product range, or by contacting us.
About Polythene UK
We supply Polythene to a wide range of Nationwide clients, as well as supplying the lowest cost for pallet wrappers in the UK. Click to find out more about our Pallet Covers, Machine Stretch Film, Hand Pallet Wrap and Pallet Wrappers.