Polythene UK's New Office – Now Official!
Sustainable office is now official
As you know, I have been keen to get our new and fully sustainable office project moving. We want to employ more people (but need more space), I want to purchase our own building as this will strengthen our balance sheet and we intend to be fully sustainable as quickly as possible.
So why the delay?
Current lending at 30% 'loan to value' left me with a lot of funding to free up!
That is until recently, when I received a call from our bank NatWest. Like any serious businessman I am regularly talking to my bank, so they know all about our plans for growth, our new recruitment policy involving young people who are NEET, as well as our sponsorship and support of Witney based charity Base 33. Apparently all these activities made us prime candidates for one of the Governments Regional Growth Fund grants.
Basically, if your company meets the strict criteria, the grant will match your investment £ for £ and then double it! The fact that we are an SME with a turnover of less then £10m, wanting to invest in order to employ more people qualified us. The fact the NatWest knew us so well meant that we were the first company that they contacted when the grant became available.
I am pleased to say that our application has been successful and that our offer is currently with the solicitors awaiting a completion date for the exchange of contracts. If all goes well, we hope to move in by 1 January 2013.
It will be my intention to move all 3 of my businesses under one roof (Polythene UK, Evergreen PV and Evergreen Energy Solutions) and my next challenge is to raise £150,000 to install a full range of renewable energy technologies (see below) in order to ensure that our new unit is not only 'passive' but producing enough excess energy to sell to our neighbours.
Renewable Energy Technologies
Internal Wall Insulation
LifeBulb® – LED Energy Efficient Lighting
External Wall Insulation
Duraflex double-glazing
Air Source Heat Pumps
Bio-mass Boilers
Air to Water Heat Pumps
Wind Turbines
Thermovec Radiators
Thermodynamic Hot Water Systems
Thermal Underfloor Heating
Solar PV
At a recent fund raising event for Base 33, attended by David Cameron, I was asked to be one of the host speakers. During the event I managed to have a word with the PM and told him all about my plans for the new premises. The great news is that David Cameron, PM of the UK, has now officially agreed to open our new offices – watch this space…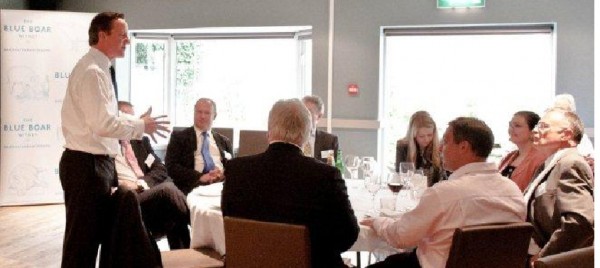 About Polythene UK
We supply Polythene to a wide range of Nationwide clients, as well as supplying the lowest cost for pallet wrappers in the UK. Click to find out more about our Pallet Covers, Machine Stretch Film, Hand Pallet Wrap and Pallet Wrappers.