Renewable Energies: LED Energy Efficient Lighting
The final installment of our Renewable Energies story:
This Month – LED Energy Efficient Lighting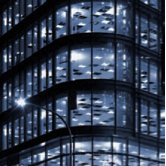 Our new, award-winning, carbon negative building features energy efficient LED lighting that uses electricity generated by the solar PV system, and provides an 80% saving on energy over the conventional lighting we inherited when we purchased the building. With lighting costs contributing to approximately 40% of an average electricity bill, it now makes financial sense to switch to low energy lighting that offers a 50% saving in both energy and carbon.
Our partner company Earth Save Products offers a variety of LED lighting products, for commercial and domestic applications, that serve the growing need to reduce carbon emissions, electricity bills and annual maintenance costs.