Supporting our troops in everyway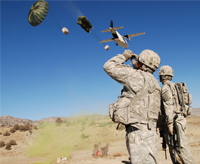 We are delighted to announce that for the next 5 years, we will be working with the MoD supplying them with approximately 20,000 Cargo Pallet Covers per month on a contract worth £250,000.
These covers will ensure that essential supplies transported to drop zones in some of the world's most dangerous regions, will arrive with our brave men and women in top condition.
James has also offered the Polythene UK corporate hospitality box, at Oxford United, to some of our troops upon their repatriation to the UK. James said, "It's such a small thing to do, but I wanted to find a way of showing our appreciation to these brave soldiers, who put their lives on the line for all of us. Securing the MOD deal involved a lot of discussion, and really brought home to us just what they are facing on a daily basis."
About Polythene UK
We supply Polythene to a wide range of Nationwide clients, as well as supplying the lowest cost for pallet wrappers in the UK. Click to find out more about our Pallet Covers, Machine Stretch Film, Hand Pallet Wrap and Pallet Wrappers.