Things just got 'so much' better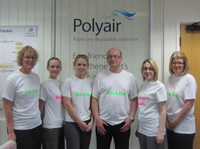 This month saw the launch of our bespoke accounting and CRM software.

Based on a Sage 200 platform and specifically tailored to meet Polythene UK business requirements, our new system brings together financial management, customer relationship management and business intelligence software all in one solution.
With the help of Duncan Ferguson (pictured) and his team from Sci-Net we now have a system that will allow the current admin team to support a much larger sales team, which will further help us to grow the business.
On the day of the launch we had a lunchtime celebration for the whole staff. Such was the excitement of the self-named 'Duncans Doll's'(the girls from the admin team) they had even organised special 'GO LIVE' T-shirts printed in aid of the occasion.
Key Features
Connection of data
A single view of sales, customer service and financials across the business
Bringing our teams together
Helping our teams save time by sharing information, identifying trends and accessing data
Links our systems
Enables the business to connect various data and improve efficiency
Connectability
Access to data anytime, anywhere with business-critical information at our fingertips
Making the difference
Combining our sales, service and financials software gives us a single view of the business and dramatically increases our ability to retain a competitive edge.
Faster and better informed decisions: Getting the right data to and from the right people gives us an instant and accurate view of what's going on.
Time saving: Instant reporting will save on average 1 hour per day.
Improve efficiency: From the ability to quickly spot trends or data anomalies and identify opportunities for growth.
Simplify regular tasks: Eliminates the need to re-key information and reduces the chance of errors by creating processes that flow across the entire company.
On top of all of the benefits outlined above – this system will enable us to be 'greener' as a lot of our existing 'papertrails' will be replaced with more efficient and intuitive online reporting.
About Polythene UK
We supply Polythene to a wide range of Nationwide clients, as well as supplying the lowest cost for pallet wrappers in the UK. Click to find out more about our Pallet Covers, Machine Stretch Film, Hand Pallet Wrap and Pallet Wrappers.