View From The Top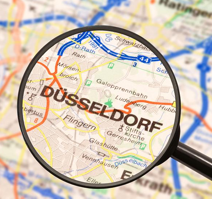 As ever I have been devoting my time, and as it happens travelling the world, in order to bring you, our customers, the best possible products at the least possible cost – both financially and environmentally.
March this year saw the relaunch of our new bio-polymer, Polyair. The green credentials of this 100% recyclable, carbon negative material give it a unique desirability from an environmental perspective. However, and if I say so myself, impressively – when combined with a simultaneous Polylite down-gauge this product is potentially cost neutral – it's no wonder we are currently enjoying tremendous success promoting it to the FTSE 350.

As you know I am very excited about this new product and want to task our dedicated sales team (who make circa. 2,500 sales calls per week) to offer both Polyair and our other environmental films in place of standard polythene to everyone they speak to. However Polyair is currently only available as a flat film, so its end-use application is currently limited to:
Printed Mailing Films
Printed Collation Shrink Films
Printed Form Fill and Seal Films
The problem is that demand for these types of film only make up about 5% of the UKs polythene usage.  What could be done?
Inspiration came from an unexpected source!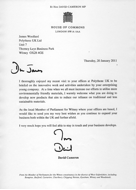 Following the opening of our new building, I received a very nice letter from David Cameron which stated "we must all increase our efforts to utilise more environmentally friendly materials."
I forwarded the letter from the PM to our bio-polymer manufacturer in Brazil and this started a dialogue. Having discussed both the success and the limitations of bio-based Polyair, we felt it would be beneficial to meet and further discuss how to achieve its full potential across the UK.
Last week, I met with some of the key decision makers at the K Trade Show in Dusseldorf. We all agreed in principle that in order to maximise the potential of Polyair, they would help us spread the word and start to supply the bio-polymer to our core UK factories.
If this happens, and I am quietly confident it will, we would be able to offer this amazing film as a solution to fulfil the other 95% of the UK requirement. Imagine the overall savings that could be made UK wide.
The Bio-Polymer Difference
Conventional Fossil sourced PE films – CO2 emissions per kg
+1.88 kg production and transport
+0.65 kg conversion and transport (Barbier)
_______
+2.53 kg in total
New GreenBio sourced PE films – CO2 emissions per kg
-2.50 kg production 100% bio based PE
+0.08 kg transport (Brazil-France)
+0.65 kg conversion and transport (Barbier)
_______
-1.77 kg in total
Note: The production of bio-based PE captures CO2 and releases oxygen
Result – CO2 emissions per kg
With just 58.8 % bio based PE, the film has no CO2 impact.
-1.04 kg 58.8% bio based PE
+1.039 kg 41.1% conventional PE
_______
-0.01 kg in total
Another potential benefit
Following one of my meetings with David Cameron, I have now have a meeting scheduled on 4 November with Defra who have, in theory, already agreed that due to the fact that Polyair is made from organic bio-polymer, it may well be exempt from the Packaging & Waste Tax. Imagine the amount of savings that could be made by UK businesses if they swop to Polyair.
We are waiting final confirmation of this – watch this space!
If you want a chat about any of this, give me a call on 0845 643 1601 or email me at [email protected]