A win-win situation for our customers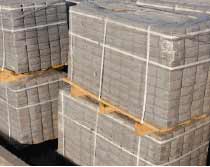 We now stock a range of polythene shrink covers made from our exclusive 'Polylite' material.
Due to our special manufacturing method, this multi-layered, tough, lightweight film offers great strength at lower gauges whilst using 20% less raw polymer. The effect of this is typically a massive 20% cost saving and a 20% reduction of the carbon footprint.
James explains further, "Never has so much been achieved by so little. Our shrink pallet covers can reduce the weight of polythene consumption by 20% – leading to less polythene waste going into our landfill system and therefore significantly reducing the user's carbon footprint. It's a terrific product, that provides the ultimate transit and storage packaging solution, saving the user money, reducing their carbon footprint and tackling the ongoing problem of polythene waste."
Our new polythene shrink covers have been designed for their strength and ease of application. All their covers are manufactured to the highest standards to ensure secured and protected pallet contents, both in storage and in transit. They are available in shrink and non-shrink versions, with sizes available up to air cargo pallet cover dimensions and can be printed with up to 8 colours.
In order to make it even easier for you to benefit from this fantastic product, we are giving away a free heat shrink gas gun (The ShrinkPro 008) with every initial order placed.
Don't forget, now that our polythene pallet covers are made from Polylite, any orders you place will entitle you to one of our new CO₂ reduction certificates – showing your customers that you are a carbon careful company.