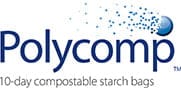 The UK dumps more household waste into landfill than any other EU state. This includes food waste. We now offer our exclusive Polycomp material to help to address this issue.

Polycomp compostable bags
Our starch-based Polycomp bags are designed to break down naturally after use so there's no need for them to be recycled.
Fully compostable within ten days in the right environment, yet strong and effective during use, these practical bags are fully EN13432 certified and provide an excellent green solution to your packaging and marketing needs.
Our Polycomp bags are 100% compostable and have been certified by French manufacturer Barbier SAS as officially containing NO Genetically Modified Organisms (GMO) and having been produced FREE from GMO materials.
This completely supports our work in developing a totally green alternative to regular polythene bags.
Compostable Bags Range:
Sizes: 300mm to 4000mm wide
Thicknesses: 12.5µm to 400µm
Compostable Bags can be supplied:
Loose as singles
In boxes of 10kg to 15kg or in pallet boxes
Perforated on the roll: approx 15kg to 35kg
Printed up to 8 colours
Prices
The price of polymer is determined by the price of oil, which changes all the time. Our sales team will be able to discuss your requirements with you, giving you the best price over the phone, and answer any questions you may have.
All products in the Bags & Covers range…
Pallet Covers

We offer a full range of Polylite polythene pallet covers to secure and protect pallet contents both in storage and transit.
Pallet Covers
Polythene Bags

Our bags can be bottom-welded, side-welded, gusseted, or flat. We also offer fold over flap and self adhesive strip bags, double welded bags and heavy duty seal bags.
Polythene Bags
Printed Polythene Bags

We can brand Polylite polythene bags with your marketing message for competitive prices.
Printed Polythene Bags
Polycomp Compostable Bags

Fully bio-degradable, our range of compostable bags are an excellent green alternative to standard polythene bags.
Polycomp Compostable Bags