Silage Film
Our Silage Film provides farmers and horticulturists throughout the UK with a way of maintaining the nutritional value of their forage plants such as corn, vegetables, and grasses after cutting, for longer lasting, higher quality silage.
The problem
Many farmers depend on silage year-round in order to fertilise their crops and provide livestock with a rich, nutritious feed.
Crops continue to respire after cutting, however, making storing and maintaining quality silage a challenge. Unprotected, the quality and condition of your forage crops deteriorates all the time until the silage is too poor to use. At this point, it is wasted, and you are left without the nutritious fertiliser you depend on for healthy crops.
How Silage Film helps
Silage Film is integral to successful silage production. The film excludes the air to your forage so lactic acid fermentation can take place, leaving a vitamin and carotene-rich feed. When properly wrapped with Silage Film, the feed can keep its quality for several months, meaning your silage is always available when you need it the most. (For example, during busy growing periods, or seasons when forage is not sufficiently available.)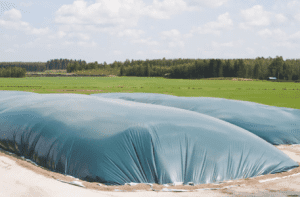 Key benefits
Silostar Silage Film has been specifically developed to meet the forage and silage needs of farmers, providing you with the following benefits:
100% food grade – protecting the food chain
Reduces typical forage spoilage
Saves you money by increasing ROI
Specifically folded for easier handling in adverse conditions
Product specifications
All Silostar Silage Film sizes are available in black or green and co-extruded using 5-layer technology.
Silostar -black/green co-extruded film using 5-layer technology.
The below sizes are also available in standard 100mu black silage sheeting:
Under Film
To maximise air tightness and get the most from your forage, use our T40 Under Film (40 microns). Our Under Film is available in the following sizes and specifications:
For easier handling and reduced forage spoilage, choose our Silostar Silage Film. To enquire further or to place an order, call 01993 894811 or contact our team online.
Our Agricultural Products…