Ventilated Stretch Film
Let your produce breathe with our Ventilated Stretch Film, specifically designed to allow your pallet-wrapped fruit, vegetables, and flowers the natural airflow they need to stay fresh and healthy.
The problem
Traditional polythene stretch film smothers the products it wraps for improved security and protection. Fruit, vegetables, and other natural products like flowers are often pallet-wrapped when growing or being transported, in order to keep them safe and secure. While security is important, these natural products also depend on a steady airflow in order to retain their look and quality.
How Ventilated Stretch Film helps
Our Ventilated Stretch Film is designed to address both of these needs, providing you with a secure pallet-wrap that allows the produce beneath the simple but important benefit of being able to breathe.
The tight film protects your produce, while small vents in the material enables air to reach and escape your fruits, vegetables, or plants, for a natural environment your crop needs to grow healthily. This means a better stretch film performance, easier packaging, and better quality produce for you and your customers.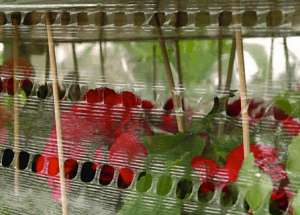 Key benefits
Our Ventilated Stretch Film has been specifically developed using the latest industry processes to provide you with the following benefits:
Easy pallet application
Secure produce during storage or transit
The fresh, high quality produce your customers expect
Reduced stock loss and wastage
A more cost-efficient crop yield and supply chain
Product specifications
Below are the Ventilated Stretch Film sizes we can supply for hand or machine application:
Machine film sizes
410mm x 4000m x 8mu – Standard
410mm x 4000m x 9mu – AGRI
470mm x 2000m x 17mu – Fleur
500mm x 1200m x 30mu – 250%
500mm x 1300m x 35mu – 300%
Hand film sizes
410mm x 500m x 8mu – Standard
410mm x 500m x 9mu – AGRI
470mm x 300m x 17mu – Fleur
For fresher, quality produce, choose our Ventilated Stretch Film. To enquire further or to place an order, call 01993 894811.
Our Agricultural Products…