Protect your pallets against corrosion with non shrink pallet covers
Wrap your pallets with our non-shrink pallet covers, designed to protect your products from dirt, dust, and light rain. Using our exclusive lightweight materials, our pallet covers are amongst the lightest and most cost-effective helping you to keep your packaging costs down and your products clean and dry.
With partners including Brazilian petrochemical giant Braskem and the French Groupe Barbier, our pallet cover solutions are recognised internationally.
Non Shrink Pallet Cover Application
Our non-shrink pallet covers are simple to use, come on easy-to-carry rolls, and can be applied fast. They can be wrapped manually or wrapped using automated lines.
To apply your pallet cover, simply wrap the film tightly around your products.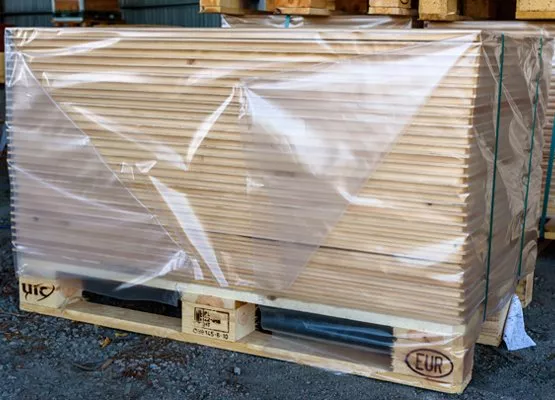 Reduce Your Costs with Pallet Covers
Our non-shrink pallet covers can be made from our exclusive Polylite™ material for tough, lightweight pallet covers providing up to 20% in savings compared to standard polythene.
Pallet top sheets in this material provide a cost-effective, environmentally friendly packaging solution.
Call us now to find out how Polythene UK can help you on 0845 643 1601*.
Technologies & Specifications
Non Shrink Pallet Cover specifications
Size: 300mm to 6000mm wide
Thicknesses: PL20 to PL500mu
Improves your green credentials
PAS2050 carbon neutral certified
100% recyclable
Printed up to 8 colours and tints
Available in Polylite™ & Polyair™
Flame retardant treatments
Frost resistant
Pallet Covers Can Be Supplied:
Loose as singles
In boxes of 10kg to 15kg or in pallet boxes
Perforated on the roll: approx 15kg to 35kg
Next day delivery on stock items within the UK when you place your order before 2pm (excludes some parts of Scotland and Ireland).
You can request a free sample of any of our products.
Enter your details below and a member of the team will get back to you.
Please note there is a minimum order quantity.
Prefer to speak to someone? Call us now to find out how Polythene UK can help you
0845 643 1601*