Multi-Purpose Polyolefin Shrink Film
We supply superb quality double-oriented thermoshrinkable polyolefin film that makes us one of the best polyolefin film manufacturers. This is a multi-purpose film with exceptional tensile strength, tear resistance, high shrinkage performance, good optics and excellent hot slip properties. Polyolefin gives outstanding results on both manual and automatic high-speed machines.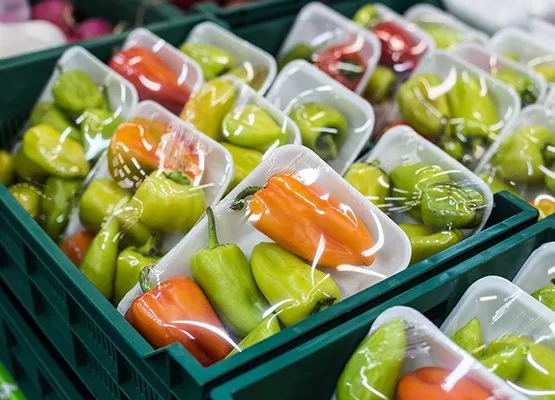 Characteristics of Polyolefin Shrink Film
Polyolefin film is characterised by its high transparency, giving excellent exposure of the packed product, and by a high gloss finish that improves appearance and aids marketing success. It is an ideal solution for introductory and promotional packages. Besides its extra optical features, the polyolefin film gives high yield that reduces the packing costs, keeping the end product price-competitive.
Polyolefin film is thin, but has the same mechanical breaking resistance as other much thicker competitive films. Innovative crosslink technology provides durable heat sealing and gives excellent shrinkability that separates us from others polyolefin film manufacturers. This is important in the case of products with irregular shape and sharp edges.
What is Polyolefin film Used for?
Polyolefin film is ideal for the packing of toys, chemical and technical products, board games, books, cardboard boxes, vegetables, fruit, flowers, bakery products, cakes and confectionery.
Polyolefin film does not include any substances that will penetrate into the packed products, so it is totally safe and meets the requirements of the food industry for product packing. It is odourless and tasteless, so it has no influence on the natural taste and smell of food products. It can be used in temperatures as low as -30 degrees celsius, which makes it suitable for packaging frozen products.
Polyolefin film is also easily recycled and no harmful vapours are emitted during heat sealing. Its technical parameters prove that it can be used on both manually operated and fully automated machines. It does not cause any machine corrosion, extending machine life and resulting in lower maintenance costs. These advantages make the polyolefin film a good alternative to PVC film.
Download the polyolefin brochure.
Call us now to find out how Polythene UK can help you and why we are the best polyolefin film manufacturer on 0845 643 1601*.
Technologies & Specifications
Polyolefin Shrink Film specifications
Size: 200mm to 12mtr wide
Thicknesses: 12.5mu to 400mu
Technologies Available for Polyolefin Shrink Film:
Next day delivery on stock items within the UK when you place your order before 2pm (excludes some parts of Scotland and Ireland).
You can request a free sample of any of our products.
Enter your details below and a member of the team will get back to you.
Please note there is a minimum order quantity.
Prefer to speak to someone? Call us now to find out how Polythene UK can help you
0845 643 1601*