Low-Cost Polythene Caddy Liners
Corn starch liners are no longer necessary. Our quick-solution polythene caddy liners mean less hassle and less cost.
It is no longer necessary to use liners made from corn starch for food waste bins, meaning your organisation can make big savings by ordering our replacement polythene caddies. No more hassle ordering specific volumes of specialised liners just for your food waste. You no longer have to worry about specific food-grade liners, now available to bulk order easy-to-use polythene caddy liners.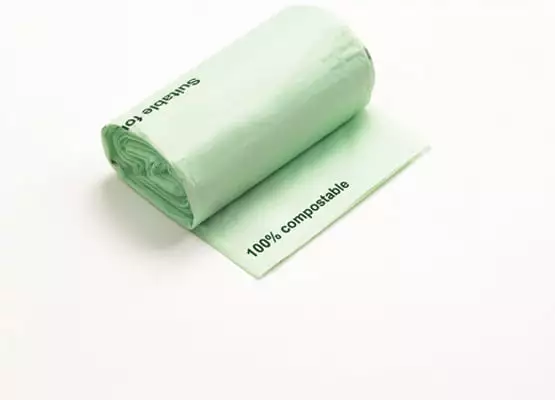 Caddy Liners Approved for use by Oxfordshire County Council
Oxfordshire County Council is the first council in the UK to act on this change in legislation. Our caddy liners are currently being distributed throughout the county to raise public awareness of this change and drive a smooth transition.
We aim to supply other county councils and local authorities with bulk volumes for similar campaigns within their own constituencies.
How can our polythene caddy liners replace food-grade liners?
Previously, bags made from corn starch were used for food waste because they were thought to break down (or anaerobically digest) at a similar rate. This provided an environmentally beneficial solution to food waste disposal.
In the UK, however, so much heat is used to speed up the process (10-14 days here, compared to 4-5 weeks in Europe) that the food still breaks down before the bags do, making them redundant.
In light of this, the government has reversed its position on the use of corn starch caddy bags, making more cost-effective polythene caddies the better option again.
Wrap have compiled a fantastic guide, 'Household Food Waste Collections Guide' which outlines everything you may need to know about polythene caddy liners.
Caddy Liner Solutions for County Councils and Supermarkets
We understand that supermarkets and hospitality businesses also handle large volumes of food waste on a daily basis. We can distribute bulk quantities of replacement polythene caddies at very short turnaround. This makes our caddies ideal for national supermarket chains and businesses with high food waste, helping them to improve their waste management processes and lower costs.
Call us now to find out how Polythene UK can help you on 0845 643 1601*.
Technologies & Specifications
Caddy Liner specifications
Size: 250mm x 420mm x 500mm
Thicknesses: 12mu – 60mu
Improves your green credentials
PAS2050 carbon neutral certified
100% recyclable
Technologies Available for Caddy Liners:
Printable & available in natural tints
Available in Polylite™, Polyair™ & Polycomp™
Flame retardant treatments
Non fusion/Low fusion
Non slip/Anti slip
Anti static
Corona treated
Low melt
UV stabilising
Frost resistant
Supplied perforated on the roll
Next day delivery on stock items within the UK when you place your order before 2pm (excludes some parts of Scotland and Ireland).
You can request a free sample of any of our products.
Enter your details below and a member of the team will get back to you.
Please note there is a minimum order quantity.
Prefer to speak to someone? Call us now to find out how Polythene UK can help you
0845 643 1601*