Also known as zipped access doors and zipper doors, shrink wrap doors create access points through scaffold sheeting, improving the efficiency and productivity of construction and industrial workspaces.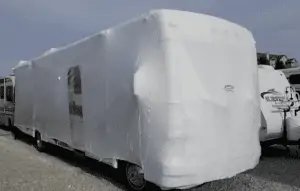 What are shrink wrap doors?
Shrink wrapping is typically used to secure scaffolding and building developments. While this offers protection, it can make site access problematic for both workers and equipment. Complete seals make access impossible, and breaking the shrink wrap to gain access means it no longer offers complete protection.

A shrink wrap door is the solution. Installation involves sewing a heavy-duty zip into a rectangle of polythene. Once your shrink wrap sheeting has been fully installed around your scaffolding or building, the door is then taped into position. The process is completed by by unzipping the door and removing the shrink wrap behind for an opening that can be zipped or unzipped as necessary to provide access whenever you need it.

Product information: we currently provide one shrink wrap door size: 0.9m x 1.8mt
Polythene UK's shrink wrap door advice
When purchasing your shrink wrap door, there are several key things to consider:
Shrink wrap doors are only necessary where access is needed to the area behind the shrink wrapping (for example, painting, remodelling, or other infrastructure assessments). Provide as much information about your project as possible to your supplier, who can help you decide whether or not you need shrink wrap doors in the first place.
Shrink wrap doors are one of the more technical shrink wraps to install. Does your supplier offer installation services?
If you're working on a large construction project, or foresee multiple shrink wrap door installations in the future, investing in installation training for your team can reduce costs and improve your team's productivity. Does your supplier offer installation training, and what are their credentials? 
Our Scaffold Shrink Wrap Products…