Sometimes called scaffold clips, shrink wrap clips are often used during shrink wrap film installation to secure the sheets or film in place before it is heat-treated. Cost-effective and reusable, shrink wrap clips are a popular alternative to shrink wrap tape, presenting a greener, more sustainable solution to your professional shrink wrap needs.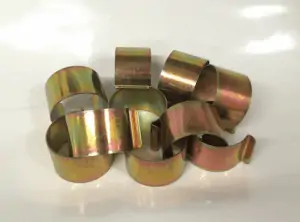 What are shrink wrap clips used for?
Shrink wrap installation is more technical and challenging than simple sheet wrap application. Because it is heat-welded, it is also more permanent. This makes the initial positioning and securing of the shrink wrap sheets critical.

Shrink wrap clips are an effective, inexpensive way of achieving this, fixing your sheets in place for efficient, reliable shrink wrap encapsulation.
Polythene UK's shrink wrap clip advice
Before purchasing your clips, always check the following with your supplier:
Despite being reusable and cost-effective, shrink wrap clips are small and easily lost. Set up clear procedure for responsible use and storage of the clips to avoid unnecessary repeat purchases.
Our Scaffold Shrink Wrap Products…