Asbestos Bags for Safe, Clean Decontamination
We supply licensed asbestos removers throughout the UK with the specially engineered asbestos bags they depend on to neutralise the risk associated with handling asbestos.
This includes both red bags and clear bags. Safe and easy to use, they enable you to remove this hazardous waste legally, responsibly, and safely.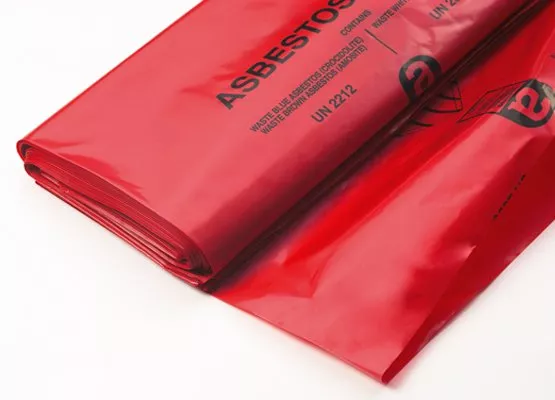 Enabling Professional Asbestos Removal
By containing asbestos fibres within two layers of specially designed polythene, red and clear asbestos bags create a double barrier that prevents these fibres from entering the human body.
This enables you to carry out professional asbestos removal services quickly and confidently, helping to keep your team and your clients safe.
Benefits of Asbestos Removal Bags
Reduces the apprehension that you or your team might have when handling asbestos.
Remove all kinds of asbestos quickly and easily, wherever it is found.
Worry less about your team, knowing they are working with high-performance, rigorously tested products.
Accept and approach work with the confidence expected of professional asbestos removers.
Asbestos removal is a closely regulated process with strict PPE guidelines that business must adhere to when handling or otherwise coming into contact with this hazardous substance.
Our bags ensure you comply with this legislation, so you can act safely and legally.
Call us now to find out how Polythene UK can help you on 0845 643 1601*.
Technologies & Specifications
Asbestos Removal Bag specifications
Size: 600mm x 1200mm – 900mm x 1200mm
Thicknesses: PL500g or PL125mu
Technologies Available for Asbestos Removal Bags:
Asbestos Removal Bags Can Be Supplied:
Next day delivery on stock items within the UK when you place your order before 2pm (excludes some parts of Scotland and Ireland).
You can request a free sample of any of our products.
Enter your details below and a member of the team will get back to you.
Please note there is a minimum order quantity.
Prefer to speak to someone? Call us now to find out how Polythene UK can help you
0845 643 1601*