Manufactured from a durable polyethylene-backed tape and a strong adhesive strip, shrink wrap tape is designed to secure, patch and repair shrink wrapping even in high winds, low temperatures, or adverse weather conditions. Polythene UK's shrink wrap tape is supplied white as standard to match our shrink wrapping for seamless attachment and repairs.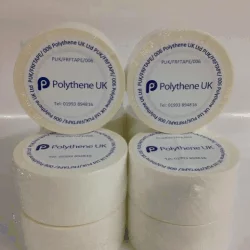 What is shrink wrap tape used for?
Repairing minor damage in shrink wrap sheeting

Joining multiple sheets of shrink wrap together, to create a larger single sheet

Securing and seal a protrusion through shrink wrap sheeting (ideal for scaffolding projects)

Attaching a shrink wrap door onto existing sheeting, for onsite access

Product information: our shrink wrap tape is supplied as 60mm x 33mt (20 rolls per box).
Polythene UK's shrink wrap tape advice
There are several things to look out for when purchasing shrink wrap tape. These are indicators of a strong, reliable, high quality product. To be sure you're getting the best quality shrink wrap tape, check the following with your supplier before purchase:
Is the shrink wrap tape bond secure? When attached, will it remain stuck, even under the pressure of construction/industrial settings?
How easy is it to actually use the tape? It should be practical for daily use and manual handling in fast-paced workplaces.
Check that the shrink wrap tape is UV stabilised. Tape that is not UV stabilised will weaken and unstick quickly under the pressures of outdoor wear and sunlight exposure.
Our Scaffold Shrink Wrap Products…