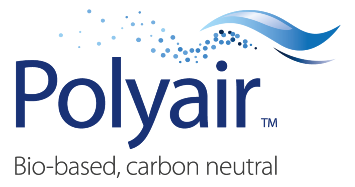 Recently launched for the UK market, our exclusive new Polyair™ product is the only 100% recyclable, carbon neutral material currently available.
Polyair™ is truly the greenest material we know of. When integrated with our Polylite™ solution, this product will not only improve your green credentials and dramatically reduce your carbon footprint, but will – as importantly – provide a commercially viable alternative to standard polythene.
Originally Polyair™ was an oxy-degradable polythene developed at a time when everyone thought that oxy-degradable products were the optimum solution. This view has now changed: there is little benefit in a material which degrades completely in two or three years – the atmosphere simply turns it into flakes and particles.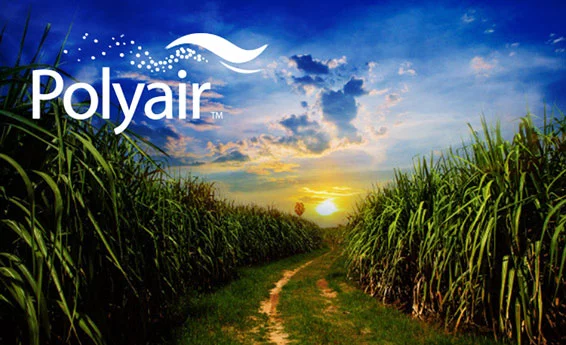 Rather than being oxy-degradable, our new Polyair™ material is bio-based. Polyair™ is made from sugar cane waste, and it's the process of photosynthesis as the plant grows that makes this product carbon neutral and the raw material remain 100% recyclable.

The sugar cane actively captures CO2 from the atmosphere, while at the same time releasing oxygen – making this material not just green, but proactively green.
Our exclusive Polyair™ material can be chosen as an alternative to regular polythene, offering your company the opportunity to improve your green credentials, meet legislative requirements and deliver improved environmental solutions. Polyair™ is fully carbon neutral, and in terms of practical use, the materials are identical to alternatives made from fossil fuels, except they are fully recyclable.
Polyair™ can be used across our full product range of pallet covers – plain or printed, top sheets, bags, pallet wrap, liners, machine stretch film and mailing film giving you a significantly greener, environmentally friendly option.
Contact our helpful sales personnel to find out how you can benefit from switching to Polyair™, based on your current product specifications.
Simply send us a current sample of your regular polythene, including the specification and details of the required application. We will be able to advise you on the optimum Polyair™ solution, ensuring you the best cost and environmental savings.
Read the Defra report on the environmental impacts of oxo-degradable plastics across their life cycle.
Call us now to find out how Polythene UK can help you on 0845 643 1601*.
Technologies & Specifications
Available to use for pallet covers plain or printed, top sheets, bags, pallet wrap and liners
Made from sugar cane
Improves your green credentials
PAS2050 carbon neutral certified
100% recyclable
You can request a free sample of any of our products.
Enter your details below and a member of the team will get back to you.
Please note there is a minimum order quantity.
Prefer to speak to someone? Call us now to find out how Polythene UK can help you
0845 643 1601*