Thinking sustainably about Polythene
Supporting businesses to make the right decisions
Polythene UK is committed to helping businesses meet their packaging regulation obligations. Our award-winning and innovative packaging products are specifically designed to reduce wastage and minimise harm to the environment.
Polylite™ is a tough and lightweight polythene that reduces consumption by 20%, leading to much less plastic waste – eco polythene. Another key product, Polyair™ is bio-based carbon neutral polythene, made from sugar cane and 100% recyclable. Our starch-based Polycomp™ bags are designed to break down naturally after use so there's no need for them to be recycled.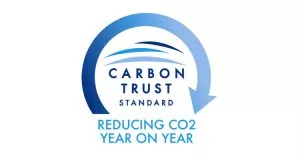 Carbon neutral packaging[
eco packaging]

: The Carbon Trust certifies our bags

The Carbon Trust's independent certification arm has certified our biopolyethylene bags to PAS2060, the internationally-recognised standard for certifying carbon negativity.

Sustainability matters. As one of the UK's leading suppliers of plastic packaging we are acutely conscious of this. This is why we are constantly taking steps to develop products made from cleaner plastic polymers with smaller carbon footprints as eco polythene.

"We recognise that as a business we need to play a role in the transition to a low carbon economy. By working with the Carbon Trust to better understand the lifecycle impacts of our biopolyethylene bags we can be confident that they [helping] to provide our clients with a more sustainable product."

Our biopolyethylene is one such polymer, designed specifically to lower our clients' carbon footprints and contribute towards a cleaner, more sustainable carbon economy.
Leading the way for change in our industry.
"Polythene UK are not only leading packaging experts, we are also leading the way for change within our industry. We are proving that the heavily criticised polythene industry can in fact change with the needs of today's society in order to build a better world for tomorrow."
James Woollard
Managing Director, Polythene UK