Secure items and protect your products with our high-performance machine stretch film. Our machine pallet wrap arrives pre-stretched for greater efficiency and reduced costs, while our use of fold-over edges at the top and bottom of the roll ensures the same high strength and long-lasting protection.
Our machine grade stretch film helps to secure palletised loads for transport through the easy application with all stretch film machines. By providing a strong tear-resistant layer to your products, it prevents the movement or damage to your palletised loads during transport and storage.
Polythene UK, as machine stretch wrap suppliers, stocks a full range of machine stretch wrap film to suit all standard and power stretch applications, with the ability to produce any combinations of thickness and PPS percentage on the market.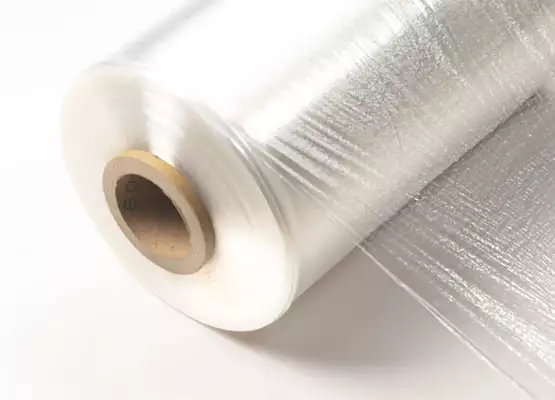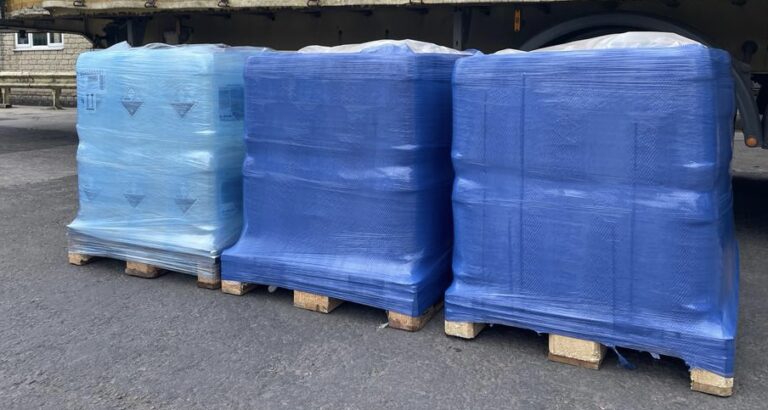 Polythene UK launches first ever opaque blue Machine Film:
Polythene UK – first to launch "opaque blue" 250% cast PPS machine film – BRC certified and 100% LDPE04 recyclable
Ordering Machine Stretch Film from Polythene UK
Can you provide samples of your machine stretch film for testing purposes?
You can request a free sample of our machine stretch film. Simply fill out our "Request a free sample form" on this page, and a member of our Polythene UK team will get back to you.
What is the lead time for delivery of machine stretch film orders?
We provide next-day delivery on our machine stretch film within the UK when you place your order before 2 pm. (Some parts of Scotland and Ireland may be excluded).
How can I determine the best machine stretch film for my needs?
Our team is available to advise you. We tailor weight-reducing, cost-effective and environmentally-friendly solutions for your needs. Reach out to us by submitting an enquiry through our form on this page, or if you'd prefer to speak to someone, call us on 0845 643 1601 to find out how we can improve your machine stretch film efficiency.
Are there any environmental considerations for the machine stretch film you offer?
At Polythene UK, we think differently. We are focused on becoming the 'greenest' company in the polythene industry. All of our films with an oxo-biodegradable additive, and our Oxo-Bio
films are SASO certified and we're proud to be working with the Carbon Trust. For more information about our environmental considerations, read our Sustainability Report.
Our Range of Machine Stretch Wrap Film
150% PPS as Standard
Typically used on a standard/traditional core break pallet turntable wrapper, your machine does not pro-actively stretch your film.
In this instance we would recommend a free trial of our thinner 7 layer 250% PPS machine film which guarantees a minimum cost saving of 26% from your current supplier.
Power Pre Stretch Film
Typically used on a semi-automatic pallet wrapper, your machine is pro-actively pre-stretching the film before it is applied to the pallet. The gearing/brake system will stretch the film from 200% PPS up to 400% PPS depending on the machine capabilities and settings. In all instances, our 7, 9 or 33 layer films will enable you to downgauge (optimize) by a minimum of 26%.
We can also test your pallet load containment forces to ensure safe loads, through a cut and weigh test.
Fold Over Edge Pre Stretched
Pre-stretch film technology was invented to maximise optimisation, typically taking a film from 17mu down to 6mu, where we can also fold over the edges of the film so it remains twice as thick at the critical breaking point.
Easy Application & Maximum Efficiency
Machine pallet wrap film is essential for quick and easy high volume application in a production line environment. Suitable for a number of commercial applications, our machine pallet wrap offers maximum efficiency while minimising labour and packaging costs.
Our range of products is suitable for automated, semi-automated and single pallet machines, while our Polythene UK Guarantee ensures practical pallet protection throughout storage and transportation.
Call us now to find out how Polythene UK can help you on 0845 643 1601*
Machine Stretch Film Technologies & Specifications
What thicknesses are available for machine stretch film@?
The appropriate thickness for a particular application depends on the weight and stability of the load being wrapped, as well as any special requirements for puncture resistance or durability. We offer a variety of specifications for our machine stretch wrap film, including several sizes, thicknesses and colours. See our technologies and specifications below:
Sizes: 100mm to 2m wide
Thicknesses: 6mµ to 70mµ
150% – 400% PPS
Available as 3, 7,9 or 33-layer cast film
Available in any colour
Printed in 1, 2 or 3 colours
Macro perforated
Oxo-degradable
Fully recyclable
Next day delivery on machine stretch film stock items within the UK when you place your order before 2pm (excludes some parts of Scotland and Ireland).
All our films with an oxo biodegradable additive, and our Oxo-Bio
films, are SASO certified
You can request a free sample of any of our products.
Enter your details below and a member of the team will get back to you.
Please note there is a minimum order quantity.
Prefer to speak to someone? Call us now to find out how Polythene UK can help you
0845 643 1601*