Cost-Effective Polythene Mailing Bags
Secure and dispatch literature and other mailing products using our cost-effective plastic mailing bags. It is an economical alternative to paper-based solutions, providing a high level of protection from both moisture and punctures.
When made from our unique Polylite™ material, we can offer our eco-friendly polythene mailing bags at some of the UK's most cost-effective rates – so you can secure your mailing literature and your costs.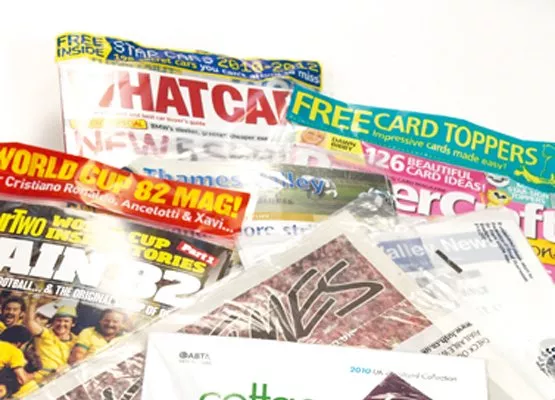 Polylite™ is a 3 layer laminated film which allows us to produce a thinner film whilst maintaining the required strength. Polylite™ is guaranteed to save you money and guaranteed to reduce your carbon footprint with 50% less waste material from a thinner plastic parcel bag.
The reduced weight of these plastic mailing bags means up to 50% lower raw material usage of an oil based product, lower transportation requirements and a high quality extrusion process combined with less overall extrusion. It also increases overall efficiency with fewer roll changes from the 50% more film capacity per roll.
Its lightweight material provides the same high puncture resistance and tensile strength and helps contribute to your green credentials by not only meaning you use less, it's also quicker to degrade than standard poly.
Call us now to find out how Polythene UK can help you on 0845 643 1601*
Technologies & Specifications
Mailing & Polywrap Film specifications
We understand every business has different needs. This is why we can manufacture these films using a variety of materials according to your business requirements.
Fully compostable
We use Polycomp™ to produce our polythene mailing bags, so is compostable in the open air as long as there are micro-organisms to break it down, and can be printed with the "OK HOME compost" logo. Polycomp™ can be disposed of on any compost heap, in a household garden waste bin, a household food waste bin, or you can use it to line your food waste bin making these biodegradable mailing bags an effective alternative.
We receive many requests about whether our plastic mailing bags are recyclable. As more and more people are specifying recyclable mailing bags to be used on direct mail, we can help you offer your clients the most eco-friendly polythene mailing bags on the market, from stock.
Carbon neutral
Polyair™ is a single-layered film extruded using 75% bio-based polymer content and is certified PAS2050 – CO² neutral by the Carbon Trust.
Polyair™ LDPE is made from sustainable polythene which is derived from Sugar Cane, meaning they are fully recyclable (Code LDPE 4), helping you to align to clients' green credentials.
Width: 125mm to 1000mm
Thickness: from 13mu to 70mu
Technologies Available for Mailing & Polywrap Film:
Printed up to 8 colours with water-based compostable inks
Available in recyclable Polylite™, Polycomp™, Polyair™ & Monolite™
Polycomp™ – EN13432 OK Home Compostable
Polycomp™ & Polyair™ – Bio-based raw material
Polyair™, Polylite™ & Monolite™ – Fully recyclable (LDPE 4)
Polyair™ – Certified PAS2050 – CO² neutral by the Carbon Trust
Polylite™ & Monolite™ – Up to 50% thinner than standard LDPE mailings film
Next day delivery on stock items within the UK when you place your order before 2pm (excludes some parts of Scotland and Ireland).
You can request a free sample of any of our products.
Enter your details below and a member of the team will get back to you.
Please note there is a minimum order quantity.
Prefer to speak to someone? Call us now to find out how Polythene UK can help you
0845 643 1601*