Secure your products with hand pallet wrap
Hand pallet wrap is a clear, stretchable film that is used to protect goods on pallets whilst in storage and transit. It is mostly clear (so that goods inside can be viewed), although coloured options are also available.
Our range of hand pallet wrap and hand stretch wrap allows you to safely wrap the small size and unique dimensions of hand pallets. Our Polylite™ hand stretch film provides an economical solution for all applications. Whether you are wrapping a single pallet by hand or a larger palletised load, effectively wrapping pallets by hand can help to maintain the integrity of your palletised products.
Lightweight yet strong, it uses the same high-performance material as our machine stretch film, only supplied for use by hand. Quick and easy to apply, hand pallet stretch wrap keeps loads contained securely in their pallets, protected in storage and secure during transit.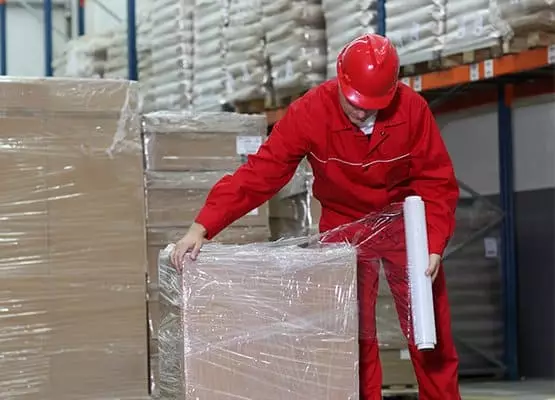 Ordering hand pallet wrap from Polythene UK
What is the lead time for delivery of hand pallet wrap?
We provide next-day delivery for our hand pallet wrap and stretch wrap within the UK when you place your order before 2 pm. (Some parts of Scotland and Ireland may be excluded).
Do you provide hand pallet wrap film samples for testing?
We do provide free samples for testing. You can request a free sample of our hand stretch wrap simply by filling out our "Request a free sample form" on this page, and a member of our Polythene UK team will get back to you.
What is the minimum order quantity for hand stretch wrap?
Depending on the product and its requirements, our range of products has different minimum order amounts. Contact our staff online or give us a call at 0845 643 1601 to acquire the precise minimum order quantity for our hand stretch wrap.
Can you provide technical support or assistance with selecting the hand pallet wrap for my needs?
Our team is available to advise you. We tailor weight-reducing, cost-effective and environmentally-friendly solutions for your needs. If you're wondering how much pallet wrap you need for your load, or how to choose the right thickness of hand pallet wrap, reach out to us by submitting an enquiry through our form on this page. Alternatively, if you'd prefer to speak to someone, call us on 0845 643 1601 to find out how we can improve your hand stretch wrap efficiency.
Increasing your hand pallet wrap yield
Our strong hand held shrink wrap is easy to apply, whichever application method you prefer. Hand pallet film is applied manually using handheld dispenser either by walking around the pallet or by spinning the pallet on a turntable.
Our standard hand pallet wrap fit all standard hand pallet wrap dispensers, or you can choose an extended core for easy application by hand. Our fold-over pre-stretched pallet wrap comes with the advantage of being pre-stretched at our factory, doubling the length of the roll from 300m to 600m. This increases the yield of the product and puts less strain on your wrapping staff as they merely have to walk around the pallet with the wrap which will spring back to the product.
Our hand pallet wrap retains the strength of traditional hand stretch wrap, with a minimum reduction in thickness by 25%.
Free hand stretch wrap samples
We find out the current thickness you are using and provide you with free samples to test on your palletised loads to reduce not only costs but also your carbon footprint.
Call us now to find out how Polythene UK can help you on 0845 643 1601*.
Hand Stretch Wrap Technologies & Specifications
Width: 50mm – 2000mm
Thickness: 6mu – 50mu
Available in up to 9 layer technology
Can be printed up to 3 colour on one side
Available in most colours, tinted or opaque
Plant-based Polyair™
Oxo-Biodegradable
Perforated
Next day delivery on hand pallet wrap stock items within the UK when you place your order before 2pm (excludes some parts of Scotland and Ireland).
You can request a free sample of any of our products.
Enter your details below and a member of the team will get back to you.
Please note there is a minimum order quantity.
Prefer to speak to someone? Call us now to find out how Polythene UK can help you
0845 643 1601*