Whether you're wrapping a pallet of empty water bottles or two tons of cement bags,
stretch hood technology offers the most comprehensive benefits when compared to
other types of palletisation solutions.
No heating is required. Save on the cost of fuel for gas or oil-based ovens.
No heat transfer from the cover to the product. Unlike other shrink pallet wrapping solutions, stretch hood film does not require heating to create the secure hood, eliminating the problem of heat transfer from the cover to heat sensitive products like LDPE bottles or plastic sacks.
Reduced amount of film required per pallet. Shrink wrapping solutions require the cover to be bigger than the pallet being wrapped, prior to being shrunk to fit. Stretch hood film can be stretched by 30%, therefore each stretch hood can be 30% smaller than the pallet, resulting in 40% less film being needed to cover the same pallet.
Employing just one tube format for all pallet sizes promises a saving in material and costs combined with considerably higher efficiency. Stretch hood guarantees protection of your products from moisture, dirt and theft in addition to eliminating the risk of fire.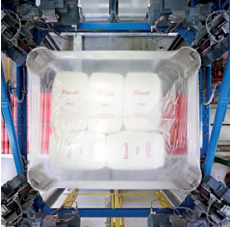 Through advancements in resin and film technology, Polythene UK's multi-layer
film structures provide improved properties and performance in stretch hood
applications, we currently stock films between 60 mµ and 150 mµ.
A stretch hood machine gathers the film; cuts and seals the top side; stretches it
beyond the size of the load to be wrapped; then pulls the hood over the load. When
the mechanical arms release the film at the bottom of the pallet, the film snaps back
creating a five-sided protection which conforms to the shape of the load, partially
wrapping under the pallet for added stability.
With excellent seal strength, the top side of each stretch hood is closed to ensure
products stay dry and protected against ultra-violet radiation. This enables retailers
to create additional floor space by keeping more products outside – even moisturesensitive products like cement bags. Our stretch hood film has a proven puncture/
tear resistance; particularly important for pallets of products with sharp edges and
corners, such as concrete blocks and wood fencing.
This efficient, fully automated process offers manufacturers, logistics companies,
and retailers a range of benefits over other pallet wrapping methods – from
potential cost savings and material handling conveniences to product display
opportunities and other value-adding benefits.
Unlike the stretch wrap process which applies multiple layers of film to the cargo,
obscuring the view of products being shipped or stored, the stretch hood process
applies a single layer of film that envelops the load. The film's clarity enables
products to be clearly seen, helping the logistics function identify inventory errors,
tampering, or product damage.
It also enables constant brand exposure, whether transported on the back of open
trucks or prominently displayed on retail warehouse floors – stretch hoods provide
a crystal clear view of product names and logos. Stretch hood films can be coloured
with Masterbatch or effectively printed with up to six colours. Quality of colour
replication can be maintained through the addition of UV stabilisers/barriers.
After successful trials, we are now delighted to announce that we have achieved a fully working stretch and release a blend that contains a minimum 30% Post-Consumer Waste!
All of the benefits of stretch hood combine to create value for retailers, brand owners, and logistics companies who need a total pallet unitisation solution. Stretch hoods also offer potential cost savings per load when compared to other pallet packaging methods.
Our stretch hood films can be adapted for use on a wide variety of machines, including:
• Beumer
• Möllers
• MSK
• Lachenmeier
• OMS
• BTH
• Thimon
• Arodo
Contact our helpful sales personnel to find out more about our extensive range of stretch hood films and how changing to either our Polylite™ or Polyair™ materials will help you to reduce both your costs and your environmental footprint.
You can request a free sample of any of our products.
Enter your details below and a member of the team will get back to you.
Please note there is a minimum order quantity.
Prefer to speak to someone? Call us now to find out how Polythene UK can help you
01993 777950*